Pearl City Highlands Elementary School held their annual Ho'ike on Thursday, May 18. PEACHES student body, faculty and staff, along with family, friends and invited guests, packed the school's Great Lawn to enjoy performances from the students representing preschool through 6th grade. The students had a great time performing under sunny skies to this year's theme, "Fun in the Sun".
Amethyst Galarse-Pancoast and Jahsiah Kime served as Ho'ike 2017 emcees. Students from No Na Haumana O Ke Kula Ha'aha'a O representing grades 4-6 performed the Ho'ike school chant.
Class Perfomances:

Preschool – "In Summer"
Second Grade – "What Time Is It"
Kindergarten – "Surfin' USA"
Fourth Grade Girls – "Ku'u Kumu"
Fourth Grade Boys – "Laupahoehoe Hula"
First Grade – "Ice Cream Freeze"
Fifth Grade – "Surf's Up"
Sixth Grade – "Sing"
Third Grade – "Unbelievable"
Awesome job!
Mahalo for the invitation to attend the wonderful event, Ho'ike 2017 and for the beautiful lei!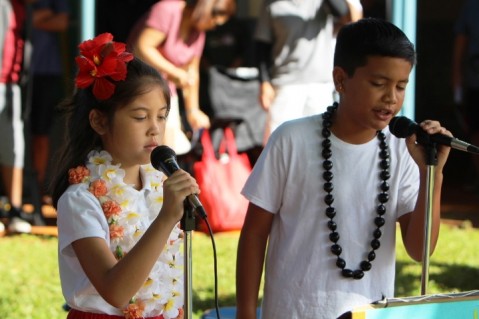 Photo by Barry Villamil | barry@mypearlcity.com
Mahalo to Amethyst and Jahsiah for a great job as emcees for Ho'ike 2017.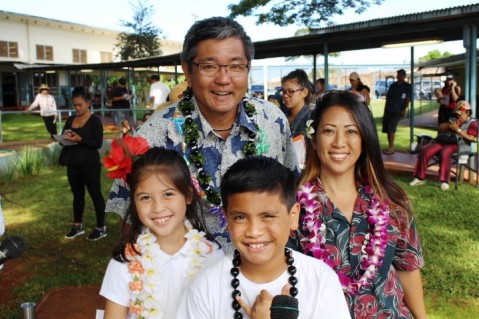 Photo by Barry Villamil | barry@mypearlcity.com