Pearl City got in the win column after defeating Waialua 17-2 in the 2017 Hawaii Little League 8-10 year old District 7 Championship Tournament played on Sunday at Puuloa Park in Ewa Beach, Hawaii.
Javian Mizuno blasted a grand slam homer in the top of the second inning that highlighted Pearl City's 17 run tally against Waialua.
Pearl City scored eight runs on two hits in the top of the second inning and exploded at the plate ionce again the top of the third inning scoring seven runs on four hits to take a 15-1 lead over Waialua. Anthony Bautista got things going in the inning with a RBI triple that drove in Brennan Tsue. Tsue led off inning with a single down the left field line to get on base. Pearl City added two runs on four hits in the top of the fourth inning to take a 17-1 lead.
Waialua scored one run on one hit in the bottom of the second inning and one run on one hit n the bottom of the fourth inning.
The game was called after four complete innings due to the 10-run rule.
Pearl City advanced with the win in the double elimination formatted championship tournament to take on Ewa Beach on Monday, June 12, 4:00pm at Puuloa Park.
GO PEARL CITY!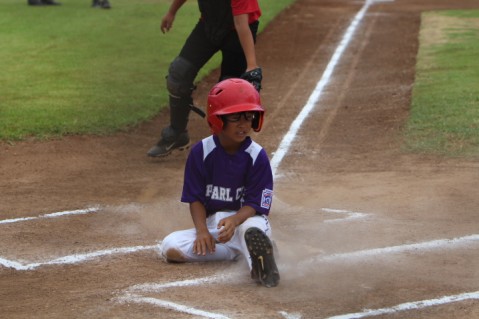 Photo by Barry Villamil | barry@mypearlcity.com
Javian Mizuno slides in safely at home plate after rounding the bases on a

grand slam homerun that put Pearl City up 6-1 in the top of the second inning.