Donation will promote Hawaiʻi and support conservation efforts
By Hawaiian Electric:
A $10,000 donation from Hawaiian Electric to The Outdoor Circle will help put 360-degree imagery of many of Hawaiʻi's impressive sites into Google Maps using the Google Trekker. The addition of these images will allow residents and visitors alike to experience some of the islands' scenic locations online. The Outdoor Circle partnered with Google to showcase the natural beauty of Hawaiʻi to worldwide audiences.
"As a company doing business in Hawaiʻi for 125 years, we care deeply about being good stewards of the environment," said Scott Seu, Hawaiian Electric Senior Vice President – Public Affairs. "We're excited to support The Outdoor Circle as this is an incredible opportunity to spotlight Hawaiʻi's appeal as a top destination, attract more visitors to stimulate the economy, and raise awareness for the protection and conservation of these islands."
The high-demand Street View Trekker camera is a wearable 50-pound backpack outfitted with a 15-camera system that collects panoramic imagery every 2.5 seconds to create a virtual tour. This summer, The Outdoor Circle's two-man crew will trek throughout the state visually mapping scenic locations valued for their natural beauty, historic significance and other special qualities. Once the imagery has been collected, Google Maps will feature locations on Hawaiʻi Island, Oʻahu, Maui and Kauaʻi along with the potential additions of Molokaʻi and Lānaʻi at a later date.
For the last 105 years, The Outdoor Circle has strived to keep Hawaiʻi clean, green and beautiful through advocacy, beautification events and innovative programs, such as the Google Trekker loan program. Myles Ritchie, The Outdoor Circle's Programs Director notes, "We are thrilled to be able to work on such a cutting-edge program which will allow for people who are interested locally, nationally and internationally, the ability to experience virtually some of Hawaiʻi's most unique locations regardless of physical, financial or other limitations. The Outdoor Circle is grateful for Hawaiian Electric's generosity in supporting us as we carry out this statewide program."
Once the Hawaiʻi images are collected and seamed together, they will be uploaded to Google Maps sometime this fall to be enjoyed free by everyone.
The Outdoor Circle donation will be added to Hawaiian Electric's growing list of "125 Acts of Aloha" for the community as the company commemorates its 125th anniversary. "Acts of Aloha" are charitable donations and service projects benefitting agencies and programs committed to building a more sustainable future for Hawaiʻi.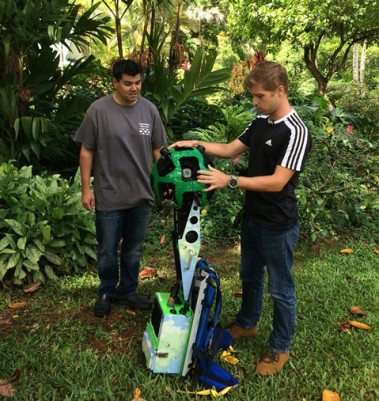 Photo provided Hawaiian Electric
"Sean Moura, Hawaiian Electric wildlife biologist, is shown the Google Trekker by The Outdoor

Circle's Myles Ritchie during a visit to Waimea Botanical Gardens on O'ahu's North Shore."