It's almost here! The 3rd annual EAT THE STREET PEARL CITY will be held this Saturday, July 15 from 1pm-7pm at the Pearl City High School gymnasium and parking lot. Limited parking will be available on campus for $3.00 (per vehicle).
EAT THE STREET PEARL CITY will feature dozens of food and beverage vendors, along with craft and specialty gift items. The event is a fundraiser to benefit Pearl City High School programs.
Please see below for more information.
Hope to see you on Saturday!
Eat the Street Pearl City – Food and Beverage Vendors

Vendor
Vendor Type:
Ubae
Ube Desserts
Flavors of the World
Meatball sub, shrimp plate, etc.
Uncle's Kitchen
Open face musubi
Pop Pop Donuts
Mini Donuts
Inferno's Pizza
Pizza
Mega Load Burgers
Burgers and fried rice pineapple
Donnie's BBQ
Southern Style BBQ
The Corn Project
Roasted Corn
Heart 2 Table
Rotating Menu- Mostly Filipino
La Leyenda
Mexican Food
Aloha Plate
Local style plate lunch
La Roux
Creole Cuisine
Big Texan BBQ
Texas Style BBQ
Ulu's Lemonade
Lemonade
Island's Finest Shave Ice
Shave Ice
Uncle Lani's Poi Mochi
Poi Mochi
Tea Girls Hawaii
Drink (Lemonade, boba, dessert type)
ICE HNL
Drink (Charcoal Limeade and other tonic type)
Roselani Ice Cream
Ice Cream
Chamorro Grindz
Guamanian Food
Olay's Thai Food
Thai Food
Hula Shrimp Co.
Hula Shrimp and Guava Chicken plate lunch
Crepes Hawaii
Crepe
Kabob Nooni
Kabob
Da Ultimate Grindz Hawaii
Plate Lunch (Filipino)
Bahn Mi
Sandwich type
Gazoz
Drink (Crafted Sodas)
PCHS Athletics
Fried Noodles and Teri Sticks
PCHS Senior Class
Andagi
Eat the Street — Retail
Vendor
Vendor Type:
Once Again Hawaii
Succulents
Auds and Ends Hawaii
Hats, clothing and some jewelry
Green Tea Hawaii
Green Tea packets
Uptown Closet–???
Clothing
Muncheez
Cereal bars
Pukabug Jewelry
Jewelry
Kahiau Jerky
Jerky
Tk World
Massage Chairs
Hi Dose
Apparel
Henry's Tonics
Bottled drink tonics
Oudraad
Toothpaste, mouth wash, breath spray
Snacks Galore
Snacks, tumblers, etc
Rodan Fields
Skin care
Kawakami
31 bags
Perfect kiss 808
Beauty supplies
Doterra
oils
Morris
Luluroe clothes
Mori
Toys, etc
Support and Other Vendors
Vendor:
Balloon Guy (Rod)
Balloons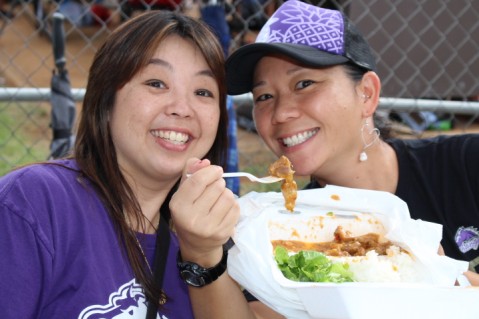 MyPearlCity.com File Photo | barry@mypearlcity.com
You like taste!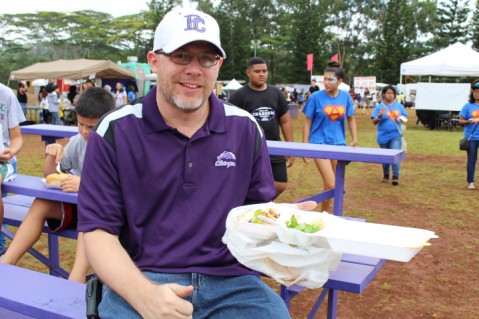 MyPearlCity.com File Photo | barry@mypearlcity.com
Come out on Saturday and support Pearl City High School! PCHS

Principal Mr. Joseph Halfmann is pictured enjoying a delicious

plate lunch at last year's Eat The Street Pearl City held at PCHS.