I would like to share the wonderful email below that I received on Sunday from my friend Makua Leilani. Her daughter Kamalani participated in Ka Makana Ali'i's Kid's Inc. event on Saturday to help raise money from her business sales to help those in need. Makua Leilani and her children are truly amazing and loved by all who come in contact with their blessed energy and thoughtfulness.
Aloha Sunday Barry,
Thanks again for posting Kamalani's business yesterday. She did pretty well for a slow day. Hopefully Ka Makana Ali'i will change their rules about the age limit of 16 and perhaps let Kamalani do this again as an ambassador next year. or perhaps allow teenagers to run a business for the day too. Kamalani met new people and was happy when her niece and cousins visited her and stayed from start to finish.
Again, we are grateful and blessed to have you in our lives. the posting you have on my children and students are awesome and it does reach out to many people who are inspired by what they read. It gives them hope that they can do anything they want in life too even in this crazy world.
We enjoyed the interview with Bianca. Thanks for making that possible. . . .wow she interviewed us and the next day the story was in the paper. . .
Have a blessed day,
Makua Leilani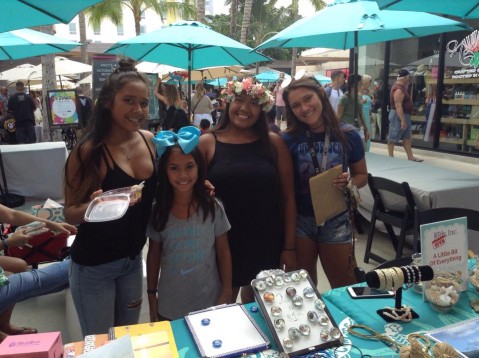 Photo provided by Makua Leilani