I would like to share a very humbling, early morning experience today that I will never forget. I made my way over to Neil S. Blasidell Park to cover Phase I of the city's plans to clear out and clean up homeless encampments along the Pearl Harbor Bike Path and Neil Blaisdell Park in Pearl City/Aiea.
Notices were given, as a part of the city's SPO-Stored Property Ordinance, to homeless encampment dwellers on Monday to remove their belongings from the area within 24 hours.
The Navy granted the city a "right of entry" in order for the city crews to access Federal land along the Pearl Harbor shoreline near Blaisdell Park on the Makai side of the Pearl Harbor Bike Path and begin clearing out the homeless encampments.
As I walked up the bridge in the Ewa direction on the bike path near Cutter Ford heading towards Neil Blaisidell Park where most of the clean up work was underway, homeless individuals lined the bridge with whatever belongings they were able to move before city crews began clearing out the encampments.
It was an amazing site. Weathered, tired, confused, and disoriented souls huddled together surrounded by, and sitting on, piles of their personal possessions while contemplating their next move.
I approached a homeless male on the bridge and asked him if he was okay, and where he plans to move on from the bike path? He just stared straight ahead and never said a word. Another homeless male standing next to him said, "thanks bruddah, he'll be okay".
I also came across individuals from non profit organizations who were conducting interviews on the bridge in order to identify the homeless men and women and offer them an opportunity to move into available shelters on Oahu.
Our homeless population is out of control as witnessed by me today. There are those who are struggling to survive, with no home, and a family to take care of and keep safe on the streets. There is also a mix of drug and alcohol addicted homeless individuals who live in a very dark and dangerous world that affects us all. Lastly, the mentally ill have no where to go. They need help. My prayers go out to all in need.
As I walked back to my car today, I asked a man who was there on the bridge helping the homeless find shelters, if he might know where the ones that turn down help today might go? He said he didn't know, but these guys being moved away from this area aren't as bad as the encampments down the bike path in the Pearl Ridge area. He said it was really bad over there. I can't even imagine it being any worse than the bike path near Blaisdell Park.
Neil Blaisdell Park and the Pearl Harbor Bike Path from Hekaha Street to Lehua Avenue will be closed to the public from Monday, August 7 through Thursday, August 31, 2017.
HPD Officers will monitor the park and bike path during the closure period. The public is being asked to contact HPD if they see anyone trespassing and violating the park and bike path closures.
Thanks!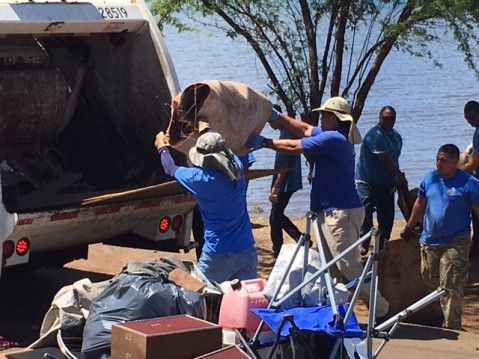 Photo by Barry Villamil | barry@mypearlcity.com
City work crews are pictured loading refuse trucks with
encampment belongings and trash left behind by the homeless.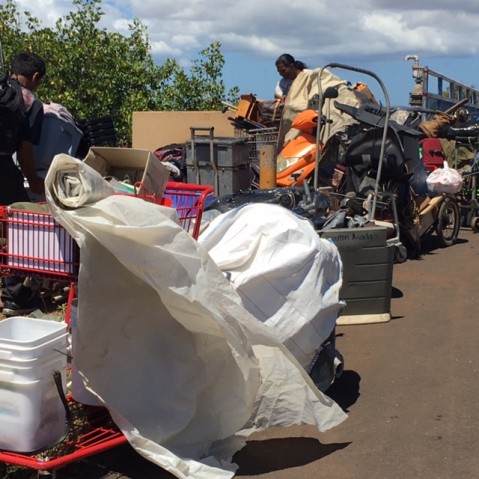 Photo by Barry Villamil | barry@mypearlcity.com
Homeless moved from the shorline along the Pearl Harbor Bike Path near
Blaisdell Park, pile up their belongings on the bike path bridge near Cutter Ford.