The Pearl City Thunder finished pool play on Monday at the 2017 Babe Ruth 14U World Series in Glen Allen, Virginia with a perfect 4-0 record after getting past host Glen Allen 5-1. The Thunder, representing the Pacific Southwest in the American Division, earned a bye into Wednesday championship semifinals. Virginia, also finished with an undefeated record of 4-0 out of the National Division which earned them a bye into the semifinals. The Thunder and Virginia will take on Tuesday's winners between the #2 vs. #3 in each division in the semifinals on Wednesday. Wednesday's semifinal winners advance to the world series championship game on Thursday, Auguist 17 with first pitch scheduled for 12:00pm HST.
TRUE AMBASSADORS OF THE ALOHA SPIRIT
I woulld like to share a wonderful message and photos from Leina Yamaguchi who is traveling with the Thunder at the 2017 Babe Ruth World Series Championship Tournament in Glen Allen, Virginia. Leina's son Michael is stand-out player on the Thunder all-star team.
Hi there Barry!
Here is a picture from yesterday's game. Thunder boys are pictured with our Glen Allen host mom, Danielle, who gave the boys this awesome cookie after the game . . . in the orange Thunder shirt is Danielle's daughter, Brittaney . . . and in the middle is Thunder's bat boy, Cameron Slough. Many of the younger brothers of our host Glen Allen team have been chosen to be bat boys . . .
Second picture: Flags representing all the states in this World Series . . . GO HAWAII~GO THUNDER!
Thunder is now 4-0 in pool play.
Cheers from VA,
~Leina
Wherever it may be in the world that our Hawaii youth teams travel to play in national and international tournaments, they extend, spread, and inspire the Spirit of Aloha. Competitors become friends, which will last a lifetime, along with very special, cherished memories and experiiences as presented in the Leina's word above and photos below. Amazing! Thank you Leina!
GO THUNDER!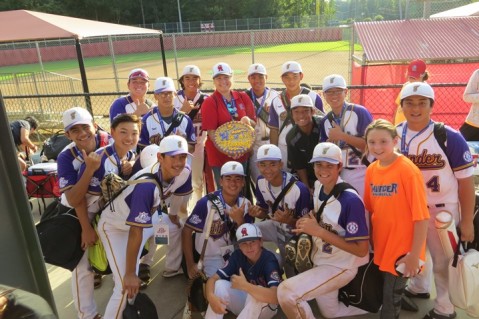 Photo by Leina Yamaguchi
FRIENDS!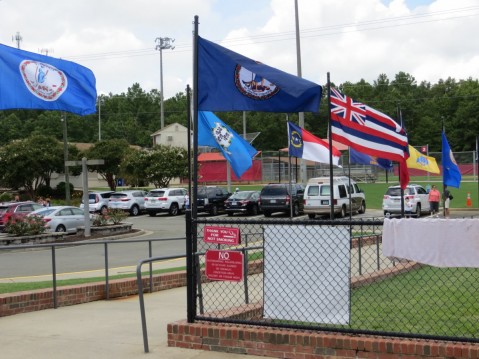 Photo by Leina Yamaguchi
The Spirit of Aloha flying proudly in Glen Allen, VA. at the 2017 Babe Ruth 14U World Series.
Standings as of Monday, August 14, 2017
AMERICAN DIVISION

Teams

Record

RS

RA

Ohio Valley

2-2

14

20

Midwest Plains
2-2
18
27
Southwest
0-4
7
27
Pacific Southwest
4-0
34
3
Glen Allen, VA
2-2
21
17
NATIONAL DIVISION

Record

RS

RA

1-2

8

12

Middle Atlantic
3-1
28
13
Southeast
0-4
13
33
Pacific Northwest
1-2
14
22
Virginia
4-0
26
9