Congratulations to the Pearl City Thunder (Pacific Southwest) who are the newly crowned 2017 Babe Ruth 14U World Series Champions after shutting out West Linn, OR (Pacific Northwest) 13-0 (F/5) today at Glen Allen Stadium in Virginia.
Brayden Hiraki delivered the "LIGHTNING" from the hill to earn the championship win for the Thunder. Hiraki pitched 5 complete innings allowing 3 hits with 8 strikeouts.
The Thunder dominated West Linn at the plate pounding out 10 hits in the ball game. Jerin Poopaa went 3-3, with 3 RBI. Joshua Fournier batted 2-3 with 3 RBI.
The Thunder scored 3 runs in the bottom of second and third innings before exploding for 7 runs in the bottom of fourth inning.
Kelena Sauer named Tournament MVP!
Thunder players named to All Defensive Team:
Kelena Sauer, DJ Akiyama, Jayton Pang
Thunder players named to All World Series Team:
Kody Watanabe, Josh Fournier
PEARL CITY THUNDER – PACIFIC SOUTHWEST
2017 BABE RUTH 14U WORLD SERIES CHAMPIONS
Brayden Hiraki, Kelena Sauer, Jerin Poopaa, Jayton Pang, Michael Yamaguchi, Tate Shimao, Kody Watanabe, Carlson Ogata, Joshua Fournier, DJ Akiyama, Michael Morgia, Randen Kohagura, Neill Natori, Jaron Yoshikawa
Manager
Daren Akiyama
Coaches
Derek Toyama and Keane Yorita
1 2 3 4 5 6 7 R H E
West Linn, OR 0 0 0 0 0 0 0 0 3 4
PC Thunder 0 3 3 7 X X X 13 10 0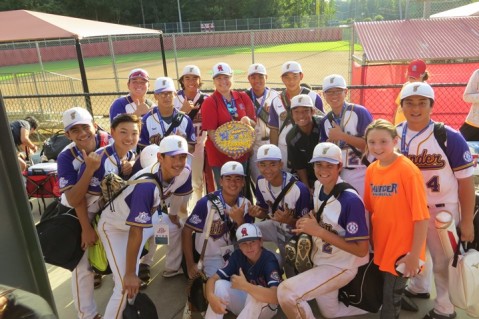 File photo provided by Leina Yamaguchi