Mahalo to the Pearl City community for making the Pearl City Community Association's 2nd Annual K. Mark Takai Family Fun Day at the Momilani Community Center a great success on Saturday, Ausgust 20!
A very sincere mahalo goes out to the Takai ohana for their support of the event in honor of Mark and his legacy of giving and service to our community. The community came together on Saturday for a terrific family event that was made possible by the support of corporate title sponsor HMSA, supporting corporate sponsors, craft and food vendors, and the awesome Pearl City High School student volunteers!
Big mahalo to the Pearl City community and visitors to our neighborhood for being there on Saturday to celebrate the life and legacy of our beloved K. Mark Takai.
Also, thank you to Breene Harimoto and the Pearl City Foundation for hosting the Annual K. Mark Takai Family Fun Day at the Momilani Community Center.

We're Proud to Sponsor K. Mark Takai Family Fun Day
At HMSA, we believe that healthy families are happy families. That's why we're proud to sponsor the 2017 K. Mark Takai Family Fun Day. This event brings families from Pearl City and beyond together for a celebration of local business and culture. Join us for a day of ono food, keiki games, and getting to know your neighbors.
Spending time with family and making meaningful connections in your community are important to living a long, healthy life. We all know that spending time with people we love makes us happier, but did you know it can actually increase your longevity? According to Blue Zones Project®, centenarians have lots of family time and invest in their community. Having a sense of purpose and helping to improve your neighborhood can do amazing things for your health.
We love Hawaii and the family, friends, and neighbors who make our community one of the best places in the world to live. HMSA's Well-Being Hawaii blog is a great resource to explore and discover your path to better well-being. Learn how finding your purpose can help you live longer. Or how communities are working together to create a healthy, sustainable future. Or how to make simple crafts and healthy school snacks for kids. Our bloggers are living their well-being journey so they can share it with you.
We want to help you live your healthiest life before you need to see a doctor. But when you need care — whether it's managing a chronic condition or welcoming a new baby — we're here to make sure that you get the best care possible. Visit our booth to meet employees from our HMSA Center in Pearl City and see what we're doing to help keep members in your community healthy and happy.
We're right here in your neighborhood, helping you navigate changes in health care. Stop in to ask questions, shop for a health plan, or pay your bill. We hope you'll stay and talk story with us about your well-being and tell us what we can to do to help. You can find us at the HMSA Center@ Pearl City at Pearl City Gateway. We're open weekdays, 9 a.m. – 7 p.m., and Saturday, 9 a.m. – 2 p.m.
Visit hmsa.com for more information.
Blue Zones Project® is a trademark of Blue Zones, LLC. All rights reserved.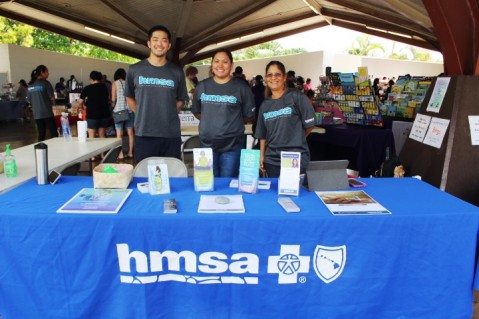 Photo by Barry Villamil | [email protected]
HMSA corporate sponsor booth pictured at the 2nd Annual K. Mark Takai Family
Fun Day at the Momilani Community Center on Saturday, August 20, 2017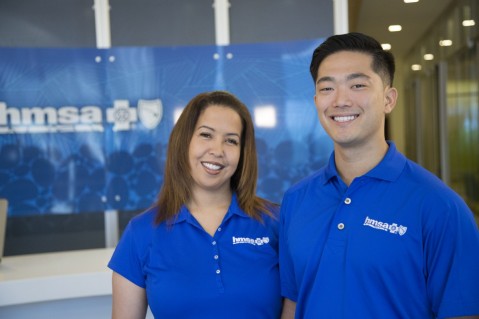 Photo by Barry Villamil | [email protected]
HMSA Pearl City
Photo by Barry Villamil | [email protected]
The Young Ohana.