Submitted by Dwayne Yuen, Hawaii Storm 17U assistant coach
The Hawaii Storm 17U Girls Basketball Team placed first in the Cairo Bracket of the Nike Tournament of Champions in Chicago with a 37-28 win over Team Kwik on Wednesday, July 12.
Over the three-day tournament, the Hawaii Storm team went 4-2 in a division where each team had between six to eight NCAA Division I recruits on its roster. This was the first time any Hawaii team has ever played in a championship game or won the championship game of a bracket at the Nike Tournament of Champions.
The Nike Tournament of Champions is universally considered the most prestigious basketball event in the world. Occupying almost one million square feet inside of Chicago's McCormick Place, the 2017 tournament hosted 752 teams and more than 10,000 athletes and coaches from all states in the U.S. and every Canadian province.
The Hawaii Storm 17U Girls team features All-Hawaii Division II Girls Basketball Player of the Year Brilie Kovaloff (Mid-Pacific), Shayla Cabato-Machado (Farrington), Paige Fahrni (Mid-Pacific), Mandi Kawaha (Hilo), Dallas Martinez (Sacred Hearts), TeHiwa Medeiros (Sacred Hearts), Dahlis Sablay (Mililani) and Taylor Wu (Iolani). Mike Taylor was the head coach for the team while Dwayne Yuen, Jordan Kealoha and Ashley Yamachika served as assistant coaches.
Nike Tournament of Champions Results – Cairo Division

• Hawaii Storm 17U (44) vs. Illinois Rage (45)

• Precision Athletics (29) vs. Hawaii Storm 17U (35)

• Hawaii Storm 17U (46) vs. MT Elite Ducks Onyx (50) – OT

• Houston Lady Road Runners (33) vs. Hawaii Storm 17U (50)

• Hawaii Storm 17U (47) vs. Wisconsin Blaze 17U Inferno (35)

• Hawaii Storm 17U (37) vs. Team Kwik (28) – Championship Game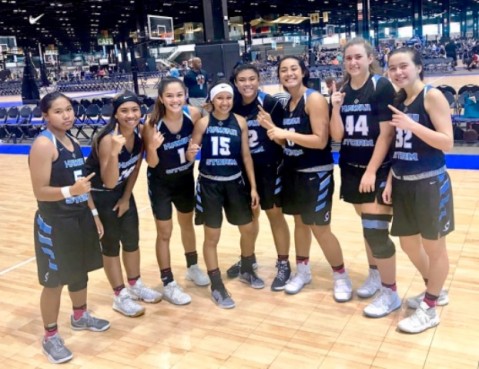 Photo provided by Dwayne Yuen