Congratulations to the Pearl City Lady Chargers who won the 44th Annual Billy Tee's/HHSAA Girls Bowling State Championship today on Kauai at the Kauai Lanes. The Lady Charges rolled a team pin total of 7272. Runner-up Leilehua High School finished 24 pins behind the champions with a total pin count of 7248.
Today's win was the seventh state team championship crown in eight years for Head Coach Millie Gomes and her Lady Chargers bowling program.
LADY CHARGERS FINAL INDIVIDUAL STANDINGS

Road to the Championship!

Place / Name / Grade / Total Pins
6) Sydni Inafuku (SR) 1604
13) Christine Madrona (FR) 1504
14) Kaylee Dela Pena (JR) 1494
26) Chailah Ganiron (JR) 1427
54) Sky Dela Cruz (SR) 1400
78) Shiann Respicio (SR) 1171
PEARL CITY LADY CHARGERS
44TH Annual Billy Tee's / HHSAA Girls
Bowling State Team Champions
CONGRATULATIONS!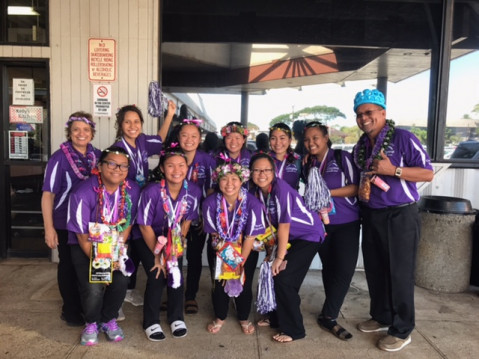 Photo courtesy of Millie Gomes