The Waipahu Marauders pulled off a dramatic come-from-behind 23-22 win over the Pearl City Chargers this past Thursday night at Aloha Stadium to bring home the championship crown and trophy to Waipahu High School.
Waipahu's Alfred Failauga scored the game tieing touchdown on a 3 yard run at 3:22 of the fourth quarter. Freshman kicker Brycen Amorozo booted through the game winning PAT to put the Marauders up 23-22.
Waipahu capitalized on a fumble under center by Pearl City back up QB Shayn Bondaug that gave the ball to the Marauders on the Chargers 40 yard line with four minutes to play in the fourth quarter. Three plays later Failauga punched it in from the 3 yards out to tie the game.
Waipahu QB Braden Amorozo completed 25/46 for 277 yards with 2 touchdowns and 2 INT's
Isaac Yamashita scored on touchdown passes from Marauder QB Braden Amorozo of 23 and 8 yards.
Alfred Failauga rushed for 113 yards on 22 carries with one touchdown.
Kapanui Reyes led the Marauders receiving core with 7 catches for 79 yards.
Pearl City QB Isaiah Asinsin completed 10/16 for 138 yards. Asinsin also led the Chargers ground game picking up 56 yards on 16 carries (42 long) with 2 touchdowns.
Calvin Mock caught 3 passes for 68 yards to lead the Chargers.
Zion Tupuola-Fetui scored the Chargers third touchdown of the ball game on a 67 yard pick-6 late in the third quarter.
Waipahu will represent the OIA in the HHSAA Division II State Football Championship Tournament. Pearl City's post season is over for 2017.
Congratulations to the Waipahu Marauders, newly crowned 2017 OIA D2 Champions!.
Congratulations to the Pearl City Chargers for a great season and runner-up finish in the OIA D2 Championship Tournament!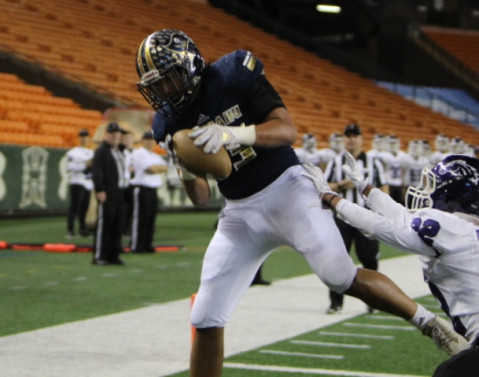 Photo by Barry Villamil | [email protected]
Isaac Yamashita caught 2 touchdowns passes for the Marauders.
Yamashita had 6 catches for 104 yards with a long of 33 yards.