Discovery Fair 2017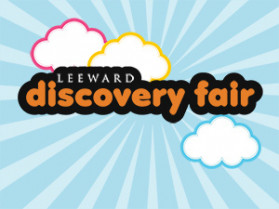 Discovery Fair is a perfect way to spend the day for all family members. The family-oriented day includes native plant sales, food booths, a book fair and interactive exhibits and games. Admission is free, with ample free parking.
Highlights of the Fair are the bustling hands-on, interactive learning activities for the entire family. This year, you'll be able to become a virtual firefighter, launch a rocket or decode an Egyptian hieroglyphic message!
Fair activities include:
Polymer Worms: Squiggle, squeeze and turn liquids into solids, creating your own polymer worms or a bag of the silliest putty
Rockets: Create and launch a high-flying rocket!
Quicksand Goo – Fair Fan Fav!!
Shake, break and splash! A gooey delight.
Banana Bongos: Go bonkers with bananas and make music with everyday objects!

Skittles Art: Create a pattern, add some warmth, and watch your artwork draw itself.
Bubble Geometry: Take a stand inside a giant bubble…or fill the air with awesome orbs.
Easy Magic Tricks: Dazzle and impress your friends .
Weird Gears: Create & conquer an inter-locking array.
Lightning Bolt Challenge: Test your tool skills in this timed challenge. Compete for prizes!
Fun with Fish: Learn the ancient art of Gyotaku & create an artistic print of a fish.
Become a Virtual Fire Fighter
Take control in the Hawai'i Fire Department's Interactive Firehouse!
And so much more:
Make & Take Crafts
Pottery Wheel
Fossil Scavenger Hunt
Science Magic
Storytelling
Brain Games
Art Projects
Bug City
Native Plant Sales
Free Used Books
Weed & Seed Safe Communities
Get a free Keiki ID, explore emergency vehicles, talk to a fireman, and see the trained canine unit.
Saturday, November 4 at 9:00am to 3:00pm
Campuswide