The Pearl City Shopping Center Merchants Association presented Manana Elementary and Momilani Elementary with 10-$100 Pearl City Shopping Center Gift Certificates in presentations at their schools on Monday, November 20, 2017. Pearl City Shopping Center Merchants Association Board Members, Sheri Rolf and myself, had the honor of presenting the gift certicates at each school.
The PCSC Merchants Association makes $1000.00 PCSC gift certificates presentations to two Pearl City District Complex elementary schools each year that rotates annually between the eight elementary schools in the complex.
Pearl City Shopping Center owner Mr. Duane Kurisu provides the PCSC Gift Certificates donations each year in support of our Pearl City Complex Schools to help offset expenses and contribute financial assistance for school programs and extra-curricular activities.
Doreen Higa, Principal, Momilani Elementary School
"Momilani Elementary is very fortunate to have received a $1,000 gift comprising of ten $100 gift certificates from Pearl City Shopping Center. This gift will be used to support school programs throughout the year! Mahalo to Pearl City Shopping Center's Duane Kurisu."
Bryan Loo, Principal, Manana Elementary School
"Our Manana students are involved in many different activities…. student government, Robofest robotics, VEX-IQ robotics, Na Keiki O Manana (chorus), basketball, track, Junior Police Officers,
Elementary Science Olympiad, just to name a few.
The PCSC Gift Certificates are a HUGE help, especially for these groups of students, as well as the school, because we can buy supplies and food (from the PCSC merchants) that cannot be purchased with state allocated funds."
Congratulations!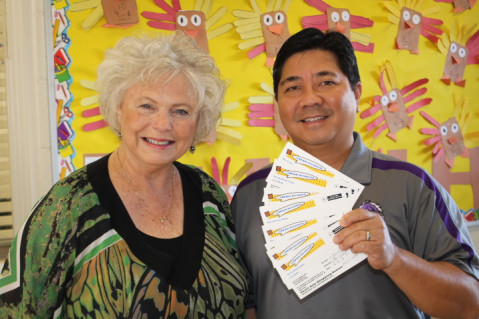 Photo by Barry Villamil | barry@mypearlcity.com
Sheri Rolf, Board Member, Pearl City Shopping Center Merchants Association,
is pictured with Bryan Loo, Principal, Manana Elementary School who is holding the
10-$100.00 Pearl City Shopping Center Gift Certificates Donation inside the school
administration office on Monday, November 20, 2017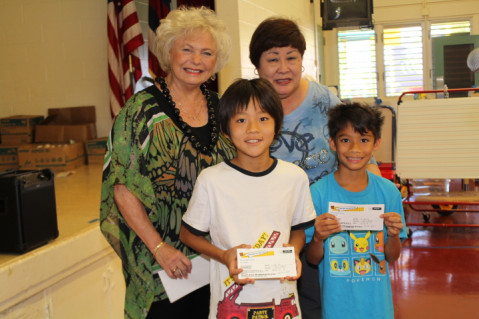 Photo by Barry Villamil | barry@mypearlcity.com
Sheri Rolf is pictured with Momilani Elementary School students, Ichiro Fujimoto (L)
and Kahiau Stevens (R) and Principal Doreen Higa (back row) inside the Momilani
Elementary School cafeteria during a special assembly held to receive the Pearl City
Shopping Center Gift Certificates Donation on Monday, November 20, 2017