The Pearl City Chargers Boys Soccer Program will hold their Annual Alumni Soccer Game on Saturday, January 20, 2018 at Edwin Bino Neves Stadium. The Chargers current Junior Varsity and Varsity teams will go head to head with the former Charger soccer stars from the past.
Schedule for Alumni Games
5 PM Game – Team 1 vs Team 2
6 PM Game – Team 3 vs JV
7 PM Game – Team 4 vs Varsity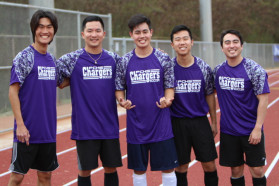 MyPearlCity.com File Photo | barry@mypearlcity.com
GO CHARGERS!

2018 ROSTERS
| | | | |
| --- | --- | --- | --- |
| Last Name | First Name | Team (TBD) | |
| Rosa | John | 1 | |
| Ikeda | Kyle | 1 | the one with the oldest/slowest guys |
| Kumagai | Chris | 1 | |
| Inamine | Scott | 1 | 5:00 PM |
| Tokita | Steve | 1 | 5:00 PM |
| Wong | Kevin | 1 | 5:00 PM |
| Kodama | Dan | 1 | 5:00 PM |
| Santo | Kevin | 1 | 5:00 PM |
| Tanita | Kevin | 1 | 5:00 PM |
| Uemoto | Shane | 1 | 5:00 PM |
| Ancheta | Damon | 1 | 5:00 PM |
| Proctor | Jerry | 1 | 5:00 PM |
| Sugiyama | Dean | 1 | 5:00 PM |
| Ancheta | Dwayne | 2 | 5:00 PM |
| Arakaki | Ivan | 2 | 5:00 PM |
| Takushi | Neal | 2 | 5:00 PM |
| Oka | Grant | 2 | 5:00 PM |
| Lile | Billy | 2 | 5:00 PM |
| Nishimura | Evan | 2 | 5:00 PM |
| Arakawa | Aaron | 2 | 5:00 PM |
| Ito | Jared | 2 | 5:00 PM |
| Aterado | Majell | 2 | 5:00 PM |
| Seminara | Kaimi | 2 | 5:00 PM |
| Egami | Matthew | 2 | 5:00 PM |
| Shinn | Randy | 2 | 5:00 PM |
| Tom | Jordan | 2 | 5:00 PM |
| Venable | Adrian | 6:00 PM | |
| Venable | Aaron | 6:00 PM | |
| Domingo | Alan | 6:00 PM | |
| Lao | Kevin | 6:00 PM | |
| Domingo | Michael | 6:00 PM | |
| Salvador | Brandon | 6:00 PM | |
| Ho | Wai Kong | 6:00 PM | |
| Lao | Roger | 6:00 PM | |
| King | Stephen | 6:00 PM | |
| Ho | Cheuk | 6:00 PM | |
| King | Michael | 6:00 PM | |
| Pacupac | Chase | 6:00 PM | |
| Takamune | Shane | 6:00 PM | |
| Rosa | Kainoa | 6:00 PM | |
| King | Dennis | 6:00 PM | |
| Rosa | Kamalei | 6:00 PM | |
| Lee | Christopher | 6:00 PM | |
| Sugitaya | Reyn | 7:00 PM | |
| Chang | Sean | 7:00 PM | |
| Sato | Dayton | 7:00 PM | |
| Valiente | Giovannie | 7:00 PM | |
| Chang | Derek | 7:00 PM | |
| Honda | Brock | 7:00 PM | |
| Takamune | Tyler | 7:00 PM | |
| Tomita | Lane | 7:00 PM | |
| Casuga | Carter | 7:00 PM | |
| Nakabayashi | Christian | 7:00 PM | |
| Tanaka | Andrew | 7:00 PM | |
| Cabacungan | Matt | 7:00 PM | |
| Sato | Jay | 7:00 PM | |
| Kanemoto-Propios | Tyler | 7:00 PM | |
| Nakano | Jordan | 7:00 PM | |
| Jacobo | Hector | 7:00 PM | |
| Wyman | Luke | 7:00 PM | |
2017 CHARGERS ALUMNI GAME
(Saturday, January 14, 2017 @ PCHS)

MyPearlCity.com File Photos | barry@mypearlcity.com