Congratulations to the Lady Chargers who closed out the regular season with a 10-0 shut-out win over the visiting Leilehua Lady Mules last night at Edwin Bino Neves Stadium.
The Lady Chargers finished with a perfect 10-0 OIA Western Division regular season record.
Tokunaga ties record for fastest goal scored – :09
Daelenn Tokunaga scored at 9 seconds into the second half against the Lady Mules on Tuesday to tie the record set by teammate Sunshine Fontes earlier in the regular season.
"That was a really a quick score by Daelenn that tied Sunshine's record of 9 seconds", said Lady Chargers Head Coach Frank Baumholtz III. "I think the previous record was set 10 years ago."
Goals: Megumi Takushi 1, Brittny Ihara 1, Heather Nakagawa 1, Soraya Santos 1, Daelenn Tokunaga 1, Kathleen Basilio 1, Reyann Lee 1, Piper Collado 1, Drew Hashimoto 1
ALOHA SENIORS!
The Lady Chargers also bid Aloha to their senior class last night in front of family, friends and super fans. It was an amazing send off for the seniors.
LADY CHARGERS SENIOR CLASS
2 Brittny Ihara (Capt.)
5 Kathleen Basilio
6 Piper Collado
7 Megumi Takushi
12 Kyla Takazono
15 Daelenn Tokunaga
17 Reyann Lee
22 Hunter Malaki (Capt.)
24 Keilyn Saleapaga
27 Heather Nakagawa
34 Coryn Perreira
The Lady Chargers head off to next week's OIA DI Championships as the OIA Western Division regular season champions and #1 West Seed in the championship tournament.
GO LADY CHARGERS!
MAHALO SENIORS!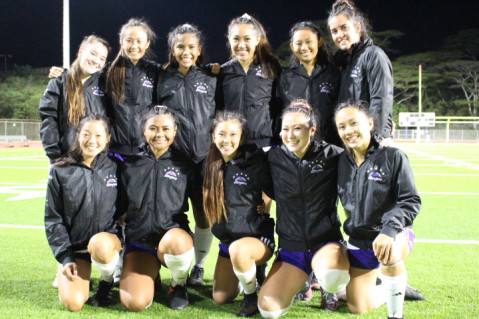 Photo by Barry Villamil | barry@mypearlcity.com