The high flying Hawaii Baptist Eagles blew past our Pearl City Lady Chargers 40-9 last night in the first round of the 2018 HHSAA DII Girls Basketball Championship Tournament played at Kalani High School.
Kyley Nakagawa led the Eagles in scoring with 8 points.
Alyssa Oshita dropped 5 points to lead the Lady Chargers.
Hawaii Baptist advanced to the championship quarterfinals and will take on #3 Roosevelt tonight at Kalani High School with tip-off set for 7:00pm.
Pearl City will play Waipahu in the consolation bracket this afternoon at Kalani High School at 3:00pm.
GO LADY CHARGERS!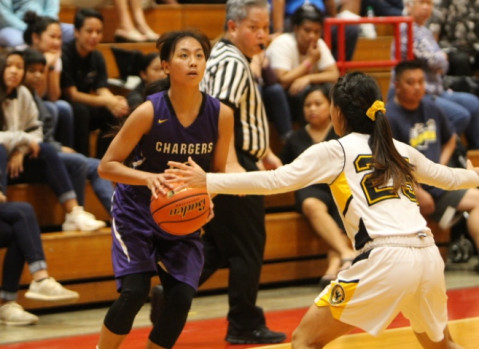 Photo by Barry Villamil | barry@mypearlcity.com
Alyssa Oshita scored 5 points to lead the Lady Chargers.