The Pearl City Chargers baseball program will host a four-team tournament tomorrow, February 3 at the University of Hawaii's Les Murakami Stadium in Manoa. The tournament is being sponsored by the Pearl City Shopping Center and MyPearlCity.com.
TEAMS
ST. LOUIS, MID PACIFIC, KAMEHAMEHA-HAWAII, PEARL CITY
TOURNAMENT SCHEDULE
9:00AM – ST. LOUIS VS. PEARL CITY
12:00PM – ST. LOUIS VS. kAMEHAMEHA-HAWAII
2:00PM – MID PACIFIC VS. KAMEHAMEHA-HAWAII
5:00PM – MID PACIFIC VS. PEARL CITY
GO CHARGERS!
#9 CADE HALEMANU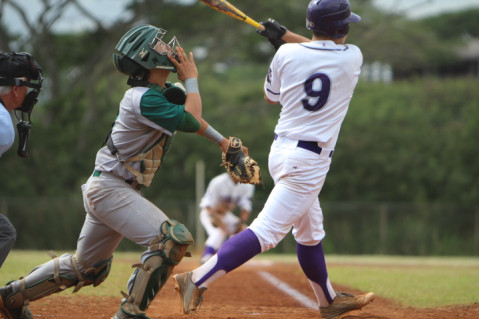 MyPearlCity.com File Photo | barry@mypearlcity.com
Cade Halemanu returns in 2018 to lead the Chargers at the plate and from the mound.