The Pearl City Chargers (1-0) are coming off Wednesday's 14-4 win over Aiea (0-1) in their 2018 OIA Western Division regular season opener and will run into a tough Mililani baseball team this afternoon as the Chargers host the Trojans at the Pearl City High School baseball diamond. The Trojans (0-1) lost a close 1-0 ball game to Campbell (1-0) on Wednesday in both teams regular season opener.
First year Pearl City head coach Wes Yonamine had a successful debut picking up the first win of his career against Aiea. The strength and experience of his Charger senior leadership shined through from both the mound at the plate.
Pearl City ace Cade Halemanu picked up the win for the Chargers pitching 5 complete innings allowing 4 runs on 5 hits with 7 strikeouts and 1 walk. Colby Narciso suffered the loss for the Na Ali'i.
Matt Aribal led the Chargers at plate hitting 3-4 with a triple, 2 RBI and 2 runs scored. Jensen Kaya hit 2-4 with 2 RBI and a run scored.
Jacob Filio, 2-3, double, RBI, run and Jason Ling 2-3, run led the Na Ali'i at the plate.
Aiea got on the scoreboard early to take a 1-0 lead on an RBI double by Jacob Filio that scored Chase Ling. Pearl City answered in the bottom of the first inning with six runs aided by walks and hit batters that gave the Chargers a 6-1 lead after one complete inning. The Chargers piled on and outscored the Trojans 9-3 the rest of the way for an early exit after the top of the fifth inning.
First pitch for today's Pearl City vs. Mililani contest is scheduled for 3:00pm.
GO CHARGERS!
@ Pearl City
1 2 3 4 5 6 7 R H E
Aiea (0-1) 1 0 2 0 1 X X 4 5 5
Pearl City (1-0) 6 2 1 2 3 X X 14 7 4
Leading Hitters
Aiea – Chase Ling 2-3, run; Jacob Filio 2-3, 2B, RBI, run
Pearl City – Matt Aribal 3-4, 3B, 2 RBI, 2 runs; Shawn Iwane 1-3, 2B, RBI, run; Sam Prentice 1-2, 3 runs; Jensen Kaya 2-4, 2 RBI, run
Chargers 2018 OIA Western Division Regular Season Schedule:
2/28 Weds. Home vs. Aiea 3:00pm
3/2 Fri. Home vs. Mililani 3:00pm
3/7 Weds. Away @ Campbell 3:00pm
3/10 Sat. Away @ Leilehua (Wahiawa Middle School Field) 3:00pm
3/14 BYE
3/16 Fri. Away @ Kapolei 3:00pm
3/21 Weds. Home vs. Waipahu 3:00pm
3/24 Sat. Away @ Aiea 11:00am
3/28 Weds. Away @ Mililani 3:00pm
3/30 Fri. Home vs. Campbell 3:00pm
4/4 Weds. Home vs. Leilehua 3:00pm
4/7 BYE
4/11 Weds. Home vs. Kapolei 3:00pm
4/13 Fri. Away @ Waipahu 3:00pm
'
2018 PEARL CITY CHARGERS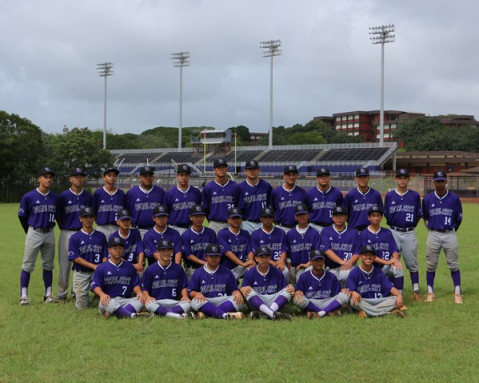 Photo courtesy of Andrew Iwane