Mililani pitchers Ryan Ancheta, Jason Shiigi, and Vance Oshiro combined for a one-hit shut-out over Pearl City yesterday afternoon in Oahu Interscholastic Association Wester Division varsity baseball played at the Pearl City High School baseball diamond. The Trojan pitching trio also zoned in on the strike zone with 8 K's.
Mililani starting pitcher Ryan Ancheta earned the win for the Trojans tossing four complete innings. Pearl City starter Kulia Neal suffered the loss for the Chargers.
Pearl City's Shawn Iwane picked up the Chargers only hit of the ball game with a one-out single off of Sabers starting pitcher Ryan Ancheta in the bottom of the fourth inning.
Mililani and Pearl City pulled even at 1-1 in OIA Western Division league standings while Campbell remained undefeated at 2-0 after running past Leilehua 10-1 yesterday behind a strong performance on the mound from Saber ace Dayton Robinson. Pearl City and Campbell will go head to head on Wednesday, March 7 at Campbell High School with first pitch scheduled for 3:00pm
GO CHARGERS!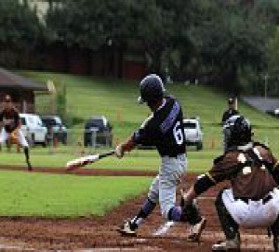 Photo by Andrew Iwane
Pearl City's Shawn Iwane recorded the Chargers only hit of
the ball game on a single in the bottom of the fourth inning.