Congratulations to the Pearl City Chargers who powered past Leilehua 9-0 on the road on Saturday to improve to 3-1 in OIA Western Division I Baseball. Leilehua pulled even at 2-2 in league standings.
Pearl City was once again red hot at the plate pounding out 12 hits which included four triples by Charger powerball contributors Matt Aribal, Sam Prentice, Cade Halemanu, and Jensen Kaya. Matt Aribal 3-5,, Christian Pacrem 3-4, and Carter Hirano 2-4 padded their regular season batting averages with strong performances at the plate for the Chargers.
Caleb Young picked up the win in three complete innings of work allowing no runs on two hits with no strikeouts and no walks. Kulia Neal shut down the Mules tossing four complete innings of no-hit ball in relief of Young.
Leilehua starting pitcher Jason Wright took the loss in three innings of work on the hill for the Mules allowing four runs on six hits with no strikeouts and one walk. Zane Staszkow (0.6) and Ty Yukumoto (3.3) pitched in relief for the Mules.
The Chargers travel to Kapolei on Friday, March 16 with first pitch scheduled for 3:00pm.
The Mules travel to Mililani to take on the Trojans on Wednesday, March 14 at 3:00pm.
GO CHARGERS!
@ Wahiawa Middle School
1 2 3 4 5 6 7 R H E
Pearl City (3-1) 1 0 3 1 2 0 2 9 12 1
Leilehua (2-2) 0 0 0 0 0 0 0 0 2 4
Leading Hitters:
Pearl City – Matt Aribal 3-5, 3B, RBI, 2 runs; Sam Prentice 1-3, 3B, RBI, run; Cade Halemanu 1-4, 3B, RBI, run; Christian Pacrem 3-4, 2B, RBI, 2 runs; Carter Hirano 2-4, RBI, run; Kulia Neal 1-1; Jensen Kaya 1-4, 3B, RBI, run
Leilehua – Jenn Poopaa-Adaro 1-3; Hunter Sasaki 1-2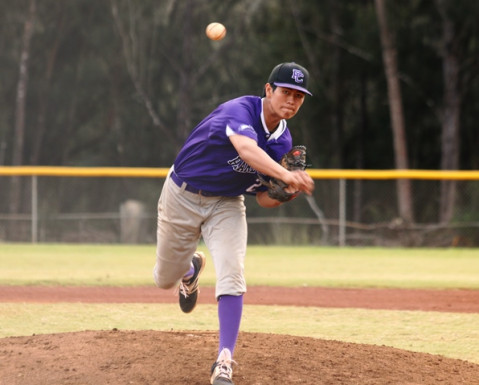 Photo by Andrew Iwane
Pearl City's Kulia Neal pitched four complete innings in relief of starter
Caleb Young allowing no runs on no hits with 2 strikeouts and no walks.
TRIPLE CRUNCHERS!

MATT ARIBAL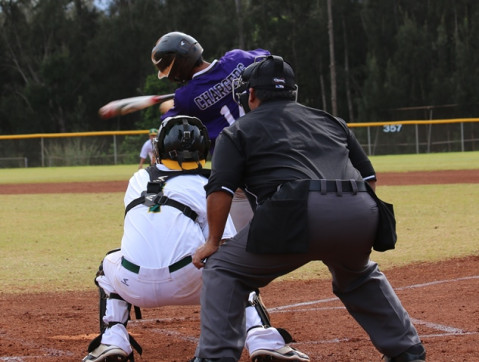 Photo by Andrew Iwane
SAM PRENTICE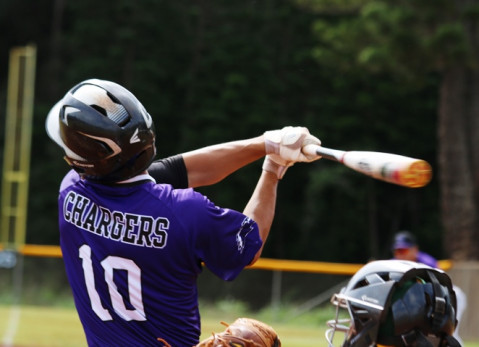 Photo by Andrew Iwane
CADE HALEMANU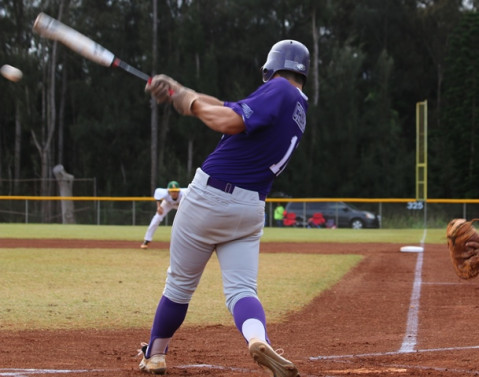 Photo by Andrew Iwane
JENSEN KAYA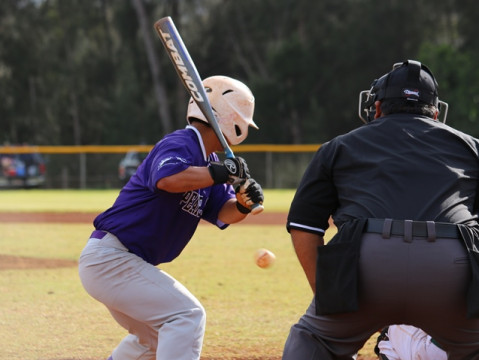 Photo by Andrew Iwane