The Hawaii Foodbank will hold the 29th Annual Food Drive on Saturday, April 21, 2018 from 8am-2pm in Pearl City at the Pearl City Shopping Center and Pearl City Walmart. Volunteers will be collecting food and cash locations in Pearl City and at 9 other collections sites on Oahu:
Oahu Collection Sites:
Kapolei Commons
Koko Marina Center Hawaii Kai Towne Center, Costco
McCully Shopping Center
Pearl City Shopping Center
Walmart-Kapolei
Walmart Mililani
Walmart-Pearl City
Waianae Mall Shopping Center & other Waianae sites
Waiokeola Congregational Church – Kahala
Waterfront Plaza
Windward City Shopping Center
Please see the annual food drive information provided by the Hawaii Foodbank below. Also, information on how you can become a volunteer on Saturday, April 21.
Hawaii Foodbank Mission:

The people of Hawaii are one ohana. The Hawaii Foodbank provides food so that no one in our family goes hungry. We work to gather food and support from our communities. We then distribute food through charitable agencies to those in need. Our mission is from the heart, and we will fulfill our mission with integrity, humanity and aloha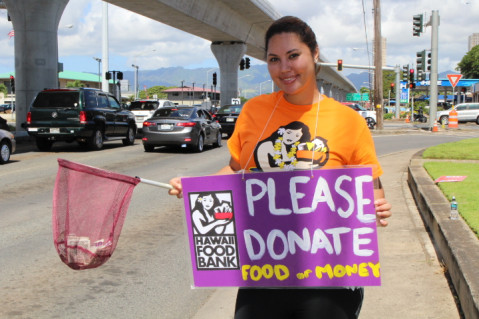 MyPearlCity.com File Photo | barry@mypearlcity.com