The visiting Leilehua Mules defeated the Chargers yesterday afternoon 6-5 in 13 innings in Oahu Interscholastic Association Western Division I baseball played at the Pearl City Chargers baseball diamond.
Ty Yukumoto earned the win for the Mules in relief. Yukumoto pitched 3 1/3 innings while allowing no runs, no hits, with one strikeout.
Raven Demmert got the stsrt for the Mules pitching six complete innings while allowining two runs on five hits with four walks and two strikeouts.
Ethan Kwon took the loss in relief for the Chargers. Kwon pitched three innings allowing one run on four hits with no strikeouts and no walks.
Christian Ontai led the Mules at the plate hitting 4-5 with a double, RBI, and a run scored.
Pearl City's Matt Aribal batted 1-4 with a home run, 3 RBI, and a run a scored. Aribal's bottom of second inning 2-run homerun shot over the right field fence tied the game at 2-2.
Cade Halemanu went 2-4 with a run scored for the Chargers. Halemanu also got the start for the Chargers pitching 8 complete innings while allowing 2 runs on 6 hits with 6 strikeouts and 3 walks.
Leilehua pulled even at 5-5 in league play while the Pearl City fell to 6-4.
The Mules get right back on the diamond on Friday to host Mililani at 3:00pm, and will close out the regular season at home against Waipahu on Wednesday, April 11 at 3:00pm.
The Chargers will host Kapolei on Wednesday, April 11 at 3:00pm, and will closed out the regular season at Waipahu on Friday, April 13 with first pitch scheduled for 3:00pm.
GO CHARGERS!
@ Pearl City
1 2 3 4 5 6 7 8 9 10 12 13 R H E
Leilehua (5-5) 2 0 0 0 0 0 0 0 1 2 0 1 6 13 2
Pearl City (6-4) 0 2 0 0 0 0 0 0 1 2 0 0 5 8 3
Leading Hitters:
Leilehua – Christian Ontai 4-5, 2B, RBI, run; Jerin Poopaa-Adaro 2-6, run; Kaika Cordero 1-5, run; Jaxon Hotta 1-5; Masen Reis 2-6, run; Mason Yamashiro 2-5, 2B, RBI, run; Ty Yumumoto 1-5
Pearl City – Matt Aribal 1-4, HR, 3RBI, run; Cade Halemanu 2-4, run; Carter Hirano 2-5, Christian Pacrem 1-6; Shawn Iwane 1-5, 2 runs; Jensen Kaya 1-3, 2RBI, run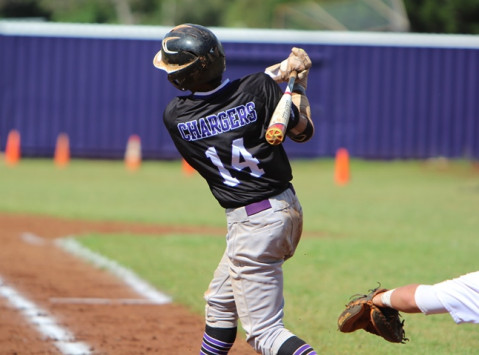 Photo by Barry Villamil | barry@mypearlcity.com
Pearl City's Matt Aribal slammed a 2-run homerun over the right
field fence to tie the score at 2-2 in the bottom of the second inning.