It was so nice to see my former Pearl City Chargers JV football coach Mr. Ed Chung and PCHS social studies teacher Mrs. Patricia (Wong) Chung today at their granddaughters 1 year birthday party at the Outrigger Canoe Club in Waikiki.
They both look terrific and it was really cool to catch up after 40 plus years and reminisce about our time spent at PCHS in 70's. Those were really great times!
To all my '73 JV Charger teammates, check out our Offense and Defense team photos. So many awesome football players and friends that I will never forget. My prayers are with our teammates who have passed on. Great guys who played hard.
We all played in the days with no athletic trainer, just our amazing team manager, Randal Tanaka who carried a lot of athletic tape, spare equipment parts, screwdriver, and water bottles. You got hurt, you sucked it up. Not that it was the smartest thing to do and face as an athlete. Thank God for the highly skilled and dedicated athletic trainers of today.
Also, check out the photo of our Charger Cheer Team! They were really good!
I will always be proud and honored to wear #22 as a Charger running back.
Thank you Coach Chung and Mrs. (Wong) Chung! Sorry, I can't help going back to the good old PCHS days of 1973!
GO CHARGERS!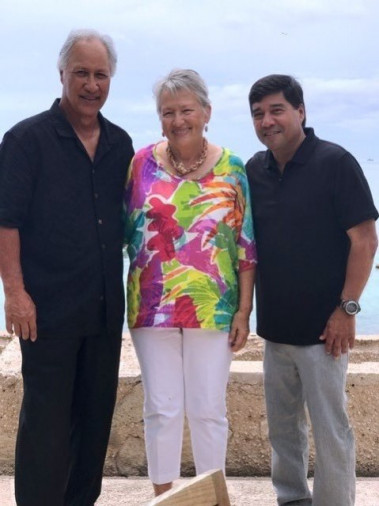 Pictured: Former Pearl City Chargers JV football coach and PCHS counselor Mr. Ed Chung,
former PCHS social studies teacher Mrs. Patricia (Wong) Chung, and me, Barry Villamil.