Mahalo to Coach Maka Keone and Coach Butch Kaiakamanu for the invitation to meet the Palisades Chargers A Flag Football team during practice on Thursday, April 19 at Palisades District Park in Pearl City. I had a great time capturing the team in action as they braved the rainy night and wet practice field. The players never missed a beat as they ran through their offensive and defensive plays and schemes. The Palisades Chargers are a very spirited group of football players, students, and friends who play hard together and care for one another while representing their school and community with PRIDE!
Coach Maka Keone

Palisades Chargers consist of two teams, A and B, with the A team consisting of 4th-6th graders and B team being 3rd grade and below. We play in Hawaii Island Flag Football league, which is a league that requires all players to come from a participating school. No exceptions. Which makes the league more realistic in that you play with the players you have. It's not a typical league where coaches can select players and create power teams. Teams from all over the island participate in this league from Aiea, Mililani, Manoa, Iriqoue point, Red Hill, and more.
Palisades has been successful thru out our 3 years in participating due to our ohana spirit. All the players were basically raised together in school and sports. With Palisades being isolated in the mountains, the community is naturally tight bonded with everyone being aunty and uncle and the players are all basically cousins. Also, with Palisades Elementary supporting our efforts, the school community really backs our players and we have the biggest fan base at the games. Palisades is a strong family based community where everyone knows everyone and it really takes a village to raise a child.
We won the championship 2 years ago, 1st runner up last year, and hope to make a run for it this year again for my A team. The B team has been champs the past 2 years.
PALISADES CHARGERS A
(4-1-0)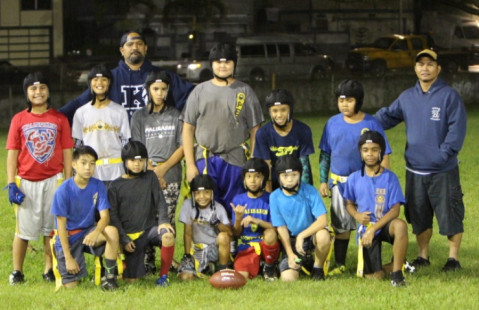 Photo by Barry Villamil | barry@mypearlcity.com
Front row: (left to right)Nalu Zablan, Laua Pereira, Kainoa Kaiakamanu, Kolten Maon, Brennan Jonick, Vance Scott.
Back row: Blaize Kaolelopono, Kila Keone, Coach Maka Keone, Kyla Yamamoto, Kamaha'o Harrell, Keelen Maon, Kylon Scott, Coach Butch Kaiakamanu
Missing from photo, Stryker Teves, and Tito Sugioka.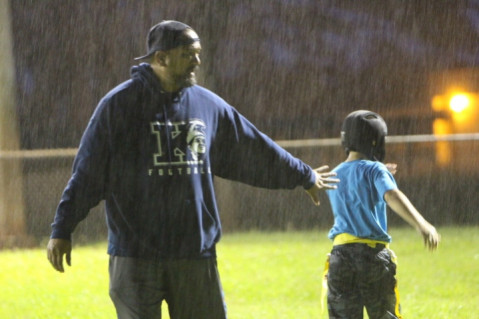 Photo by Barry Villamil | barry@mypearlcity.com
Coach Maka and his Chargers practiced hard on Thursday, April 19
as the rain came down on the Palisades District Park field.
ONE TEAM!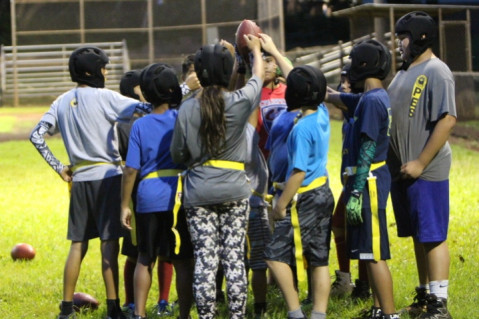 Photo by Barry Villamil | barry@mypearlcity.com


GO CHARGERS!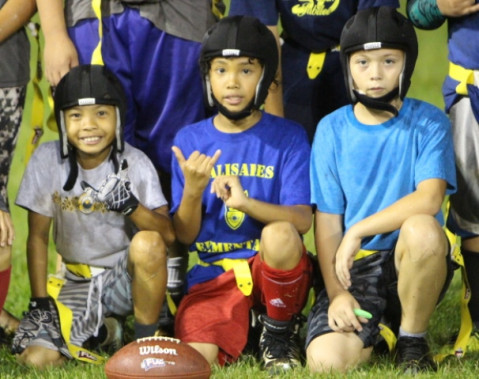 Photo by Barry Villamil | barry@mypearlcity.com


BRYANT MONIZ
"IN DA HOUSE"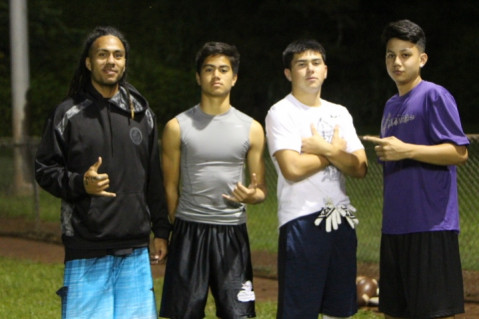 Photo by Barry Villamil | barry@mypearlcity.com
Former University of Hawaii Warrior standout, and current CFL QB Bryant Moniz was at
Palisades District Park Thursday night working out a group of talented athletes who
will soon make their presence known as top high school QB's and receivers in the state.
Mahalo Coach Bryant!