I have covered a lot of sports in my career as a reporter, photographer, and writer, but nothing compares to the experience of covering and being around athletes representing Special Olympics Hawai'i. I recently had the opportunity to interview SOH multi-sport athlete Sol Ray Duncan as he and his Terminator's teammates prepare to travel to Seattle, WA. this summer to participate from July 1-6 at the 2018 Special Olympics USA Games.
Sol Ray and his teammates represent a group of elite SOH soccer players who play with their hearts on their sleeves and truly look out for one another. They pick each other up and encourage their teammates to continue to work hard towards reaching their goals and championship dreams.
Sol Ray is their leader, but even he needs a little pick up once in a while and encouragement to strive forward as witnessed by me at a practice session in April as Sol Ray was tripped up and landed on the Mililani High School stadium turf. He was helped up by teammate Renee Manfredi, dusted off, and together they ran off to complete warm up drills. The defining moments of competing as "One team" is never in question. It's what championships and friendships are made of and shared.
As a multi-sport SOH athlete, Sol Ray participates year round as a forward in basketball, centerfielder in softball, soccer, swimming, and has also represented Hawaii in track and field at the World Games. He it's currently softball, but the concentration is on soccer as the Terminators' train for their journey to Seattle. He's excited to take the trip and is ready to go!
Sol Ray Duncan, O'ahu Terminators', Multi-sport athlete, Special Olympics Hawai'i
"It's exciting to practice for the trip to Seattle. So far it's going well. I think I'm doing well. Right now I'm also playing softball. I play centerfield. I also play basketball. I'm a forward on the basketball team. I also swim, but I need to devote more time to soccer. I also run track, but we've been short a few athletes. I really enjoy running the half mile, mile and relay. It's really good and important being a Special Olympics athlete. I want to say thank you to Coach Danny. He pushes me. He's a good coach."
The Terminator's delegation represents Oahu primarily from Central Oahu. Head Coach Danny Vasconcellos, Jr, Hui O Hawai'i Soccer, has coached Sol Ray for over 10 years and has guided, and played an integral role in Sol Ray's development and success as he has worked hard through the years in becoming one of Special Olympics Hawai'i's top athletes.
Danny Vasconcellos, Jr, Head Coach, Hui O Hawa'ii Soccer, O'ahu Terminators'

"I've been a volunteer coach with Special Olympics for over 10 years now and Sol Ray is one of the athletes that I've been coaching throughout the whole time that I've been a part of the Terminators' delegation. Sol Ray is one of our better athletes. He participates year round. Right now we're in softball season. Soccer is actually a summer sport and Sol Ray currently participating in softball. He also usually does swimming, but because we had to concentrate on the national games, we've asked a lot of swimmers to not participate, so we thanked them for their sacrifice. Sol Ray plays soccer in the summer and during the fall season he plays basketball. He has also done track and field, and he has gone to the World Games as a Special Olympics athlete to represent Hawai'i in track and field. He has been on the track team for a while, and it's something we hope will have again soon. Again, he is an all-around athlete and one of our top performers. One of the things he knows is that I push him a little bit and it's because I think he knows that he has the potential to be one of our top athletes. He's already one of our top performers, but I always see, and we always want them to do better. I push him a little harder than some of the other athletes because #1, I know he can perform at that level, and #2, he never has a negative attitude and does his best. I can say in all cases, he's come through. He's always an important member of our soccer team the Terminators' and Hui O Hawai'i, and I'm glad to have him, and would like to thank all of team and supporters."
GO TERMINATORS'!

The O'ahu Terminators' will also represent Hawai'i at the 2018 Special Olympics USA Games with following teams from Kauai, Maui, Hawaii Island:
Kauai Track & Field Team
Maui High School (participating in Youth Leadership Experience)
Hawai'i Island Honokaa Basketball Team
O'ahu Terminators' Soccer Team
Kyle Burkhart, Kyson Cadiam, DeSean DesJardins
Sol Ray Duncan, Nicole Kelly, Renee Manfredi
Brandon Nakata, Rell Romero

Coaches: Danny Vasconcellos, Jr and Katherine Eum
Photo by Barry Villamil | barry@mypearlcity.com
Sol Ray is pictured with Terminator's Head Coach Danny Vasconcellos, Jr.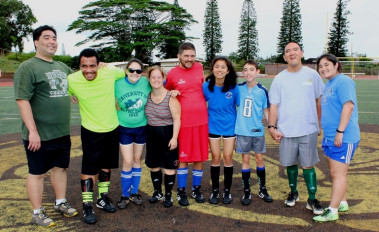 Photo by Barry Villamil | barry@mypearlcity.com
Head Coach Danny Vasconcellos, Jr (far left), and Assistant Coach Katherine Eum
(far right) are pictured with their 2018 Special Olympics Hawai'i O'ahu Terminators' Team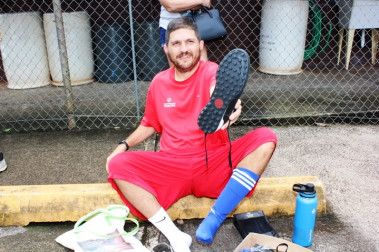 Photo by Barry Villamil | barry@mypearlcity.com
NEW SHOES!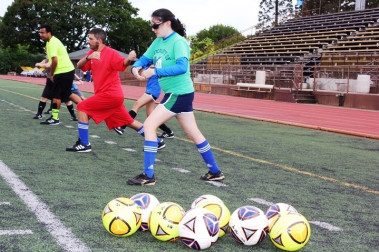 Photo by Barry Villamil | barry@mypearlcity.com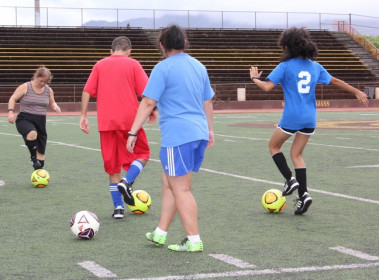 Photo by Barry Villamil | barry@mypearlcity.com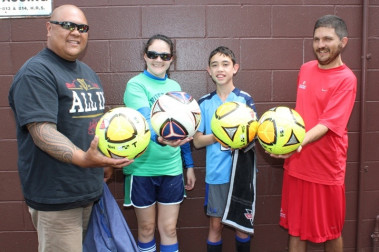 Photo by Barry Villamil | barry@mypearlcity.com

The 2018 Special Olympics USA Games will be held in Seattle, Washington July 1-6, 2018. Special Olympics Hawai'i will be sending a delegation of 30 athletes, coaches and law enforcement personnel who will be representing Hawai'i. They will be a part of the 4,000 athletes and coaches representing 50 state programs and the District of Columbia. Our delegation, Hui 'O Hawai'i will compete in three sports: Basketball, Soccer, and Track and Field. Our Law Enforcement officer will be running in the Final Leg of the Law Enforcement Torch Run that will span the state of Washington and culminates with the lighting of the cauldron at the Opening Ceremony on July 1st.
Mission Statement
The mission of Special Olympics is to provide year-round sports training and athletic competition in a variety of Olympic-type sports for children and adults with intellectual disabilities, giving them continuing opportunities to develop physical fitness, demonstrate courage, experience joy and participate in a sharing of gifts, skills, and friendship with their families, other Special Olympics athletes and the community.
For more information about the upcoming 2018 SPECIAL OLYMPICS USA GAMES please log on to: www.sohawaii.org.