Congratulations to Hawaii Diamond Black who captured the 2018 Cal Ripken 12-year-old Major/70 Pacific Southwest Regional Tournament Championship this past Saturday in California. Hawaii Diamond ace Cody Branco picked up the championship title win. The Champs went 6-0 in championship tournament play and will represent the Pacific Southwest in the Cal Ripken World Series that begins play on Friday, August 3 through Saturday, August 11 in Branson, Missouri.
Seven Diamonds also landed on the All-Tournament team for their outstanding play throughout the Regional tournament led by tournament MVP Connor Dempsey.
Congratulations to Hawaii Diamond Black Manager Nathan "Homey" Numata, his championship coaching staff and players, and Hawaii Diamond die-hard supporters for representing Hawaii with Pride, Class, and Aloha Spirit.
ALL HEART! GO DIAMONDS!

HAWAII DIAMOND BLACK
2018 Cal Ripken 12-Year-Old Major/70
Pacific Southwest Regional Champions
Caleb Lauifi
Cason Quinata
Cody Branco
Connor Dempsey
Eddie Ogasawara
Jayden Gabrillo
Kaiden Sonoda-Fukumoto
Kolby Gushiken
Lanzon Nagum
Nathan Nagum
Skyler Unebasami
Trent Nagamine

Coaches: Joe Gabrillo
Ray Ogasawara
Jerry Nagum
Manager: Nathan "Homey" Numata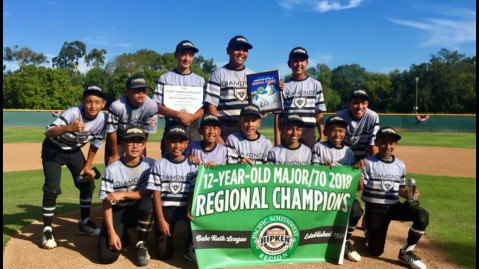 Photo courtesy of Ron Nagamine
HAWAII DIAMOND BLACK
2018 Pacific Southwest Regional
All-Tournament Team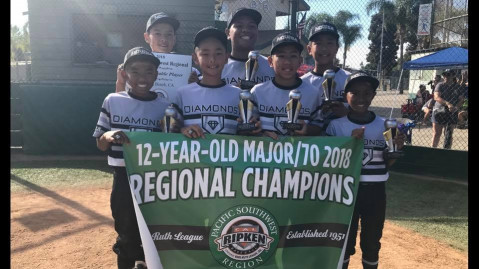 Photo courtesy of Ron Nagamine
Front row: Jayden Gabrillo, Kaiden Sonoda-Fukumoto, Cody Branco, Nathan Nagum
Back row: Conner Dempsey (tournament MVP), Caleb Lauifi, Trent Nagamine