Josh Aribal pitched a complete game, seven inning 5-0 shut-out over Arizona today to advance Pearl City to the 2018 Little League Juniors 14 years old Western Regional Championship title game in San Jose, California. Aribal allowed no runs on two hits with eight strikeouts. Pearl City will take on undefeated Southern California on Saturday for the championship. Pearl City (5-1) will need to defeat Southern Cal (4-0) twice for the championship crown and advance to the 2018 Junior Little League World Series in Taylor, Michigan. The world series championship will be held at Heritage Park from August 12 through August 19.
Southern Cal defeated Pearl City 6-2 in the opening round double elimination format championship tournament on Saturday, July 28.
Western Regional Win/Loss Record

Pearl City (5-1)

L Pearl City 2 Southern Cal 6
W Pearl City 7 Oregon 0
W Pearl City 16 Alaska 1
W Pearl City 15 Montana 2
W Pearl City 19 Northern Cal 2
W Pearl City 5 Arizona 0
Southern California (4-0)

W Southern Cal 6 Pearl City 2
W Southern Cal 12 Nevada 1
W Southern Cal 8 Montana 6
W Southern Cal 4 Arizona 3
2018 Little League Juniors 14 years old Western Regional Championships link:
https://www.littleleague.org/world-series/2018/llbws/tournaments/junior-league-baseball-west-regional/
GO PEARL CITY!!!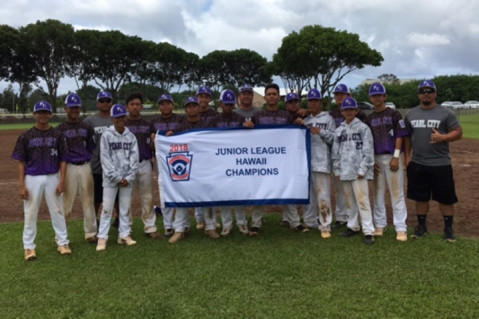 Photo provided by Coach Eric Boyles