On the behalf of Ka Pilina o ka Hula me ka Ho'okanikapila, we would like to congratulate our Palisades Elementary Ukulele Club, led by Mr. Lee Teraoka for winning 1st place Marching Unit for the 2018 Pearl City Christmas Parade. They've been practicing hard and today proved their hard work paid off. .
Ka Pilina o ka Hula me ka Ho'okanikapila would like to thank the following people: (sorry in advance if I missed anyone)
Mr. Gavin Tsue, Shannon, Mr. Lee Teraoka, and our Palisades Ukulele Club (for allowing us to walk with them in the parade and pass out candies)
Makua Janet (support and fundraising for the hula dancers Santa Hats and Tinsel Leis)
Makua Kerrie (for her beautiful "HEart" work for our sign)
Enterprise (for allowing us a truck rental last minute)
Kawika (driver of the parade)
Kekoa, Erika, Armida, Joanne, Kanna, Kathy (adult walkers of the parade)
KIley, Gavyn, Arahmae, Rylee, Nathalia, Khiena, Isabella (passing out candies)
Hailey, Nalani, Kaydi, Peyton, Diana, Nami (riders of the parade)
And to Sheri Rolf and you Barry, for your hard work and dedication to our annual Christmas Parade.
It's really nice to see the people in our Pearl City Community come out to participate and be a part of this wonderful event and spread their ALOHA Holiday Cheer. . .
Mahalo,
Makua Leilani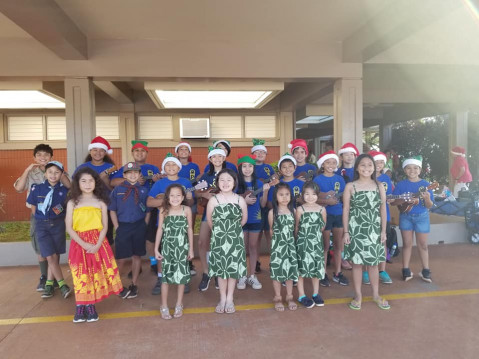 Photo by Shannon
Photo by Kawika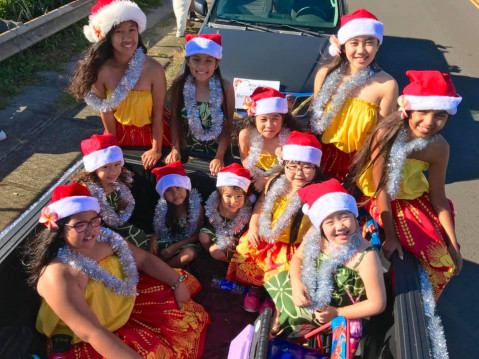 Photo by Kawika