By Kekoa Manner
While most people get excited and look forward to celebrating their birthday with family and friends. . .our mom did something different. We were hoping she would take the day off on her birthday eve or birthday so she could enjoy her special day. Instead, my mom was on a mission to make sure someone else's birthday will be special this year. . My mom spent the past 2 days having her Hawaiian Studies 3 and 4th graders from Palisades Elementary create ALOHA birthday greetings and send them to a veteran of WWII, Mr. Duane Sherman, in California.
My mom saw a Facebook post by Sue Morse, daughter of Mr. Duane Sherman. She shared that her dad didn't feel like celebrating his 96th birthday this year. She started a Facebook request to have people send her dad birthday cards to help him feel good on his special day. "Mr. Sherman is a WWII Navy Veteran who was a Chief Sonarman on the USS Lamson DD 367. On December 7, 1944, his ship was hit by a kamikaze plane and close to 30 shipmates died. Mr. Sherman tells of jumping from the bridge into fiery waters. His back was hit with hot shrapnel. He received a Purple Heart for wounds sustained. He is very proud of his service and also served as a Sonar Instructor during the Korean War." the words of Sue Morse.
Mr. Sherman is an amazing man and true hero. I'm very proud that my mom and her students took the time to give thanks and recognition to Mr. Sherman for risking his life and serve our country so that we be safe.
Thank you,
Kekoa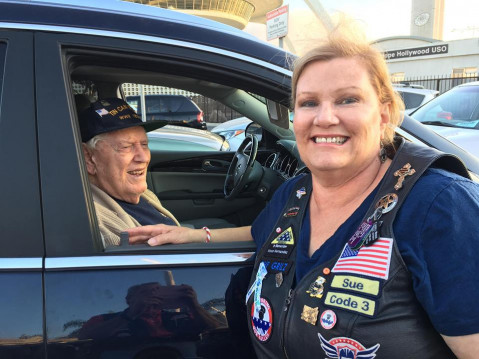 Photo Courtesy of Sue Morse
Mr. Duane Sherman and Sue Morse taken during
a Patriot Guard Riders Mission for a fallen hero.
Photo Courtesy of Sue Morse
Mr. Duane Sherman and the USS Lamson DD367
Photo Courtesy of Makua Leilani
Box full of Aloha Birthday greetings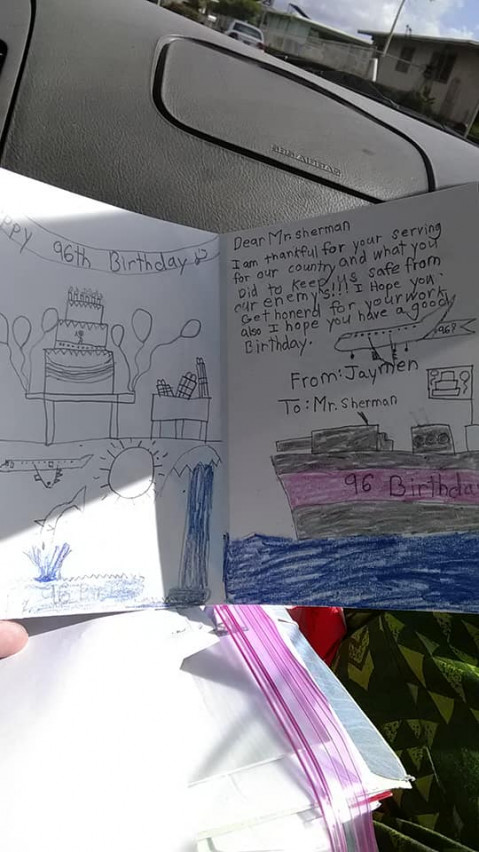 Photo Courtesy of Makua Leilani
Greeting Card by Jaymen
Photo Courtesy of Makua Leilani
Greeting card by Isabella