By Makua Leilani:
As the New Year begins and school is back in session. . .what better way to start the school year with a talent showcase. A big MAHALO to Shannon Teves, Palisades Elementary School PCNC/PTO Events Coordinator for putting together a Palisades Got Talent Showcase which was held today in the cafeteria.
This was our 1st talent showcase featuring 8 solos, duos, and groups performances:
Josiah/Ukulele and Vocal solo
Isabella/Vocal solo
Stryker/Ukulele and Vocal solo
Moani/Kata
Gabby and Marychris/Vocal duo
Slayter and the hula girls/ Ukulele/Vocal/Hula
Sync and Swim/Group Performance
The Constellations/Group Performance
Ka Pilina o ka Hula me ka Ho'okanikapila/Opening and Closing Hula Performances for Palisades Got Talent Showcase
Mahalo to the many hands who helped make this event possible so we could feature our amazing, talented, students. . thank you Mr. Tsue (principal) for allowing us to have our talent showcase today and thank you Mrs. Kanaeholo (VP) and her 'ohana, grandparents, parents, students, and guests for being such a wonderful audience. Sorry in advance if I missed anyone. . .
Hula Dad Matt, for bringing his sound system and being our sounds man
PTO President, Erika, for helping with the line-up of the performers and passing out the certificates.
Mom of one of the performers (sorry I didn't get your name) for passing out the goody bags for all the performers after they received their certificates. . .
Good job everyone. . . .
Mahalo,
Makua Leilani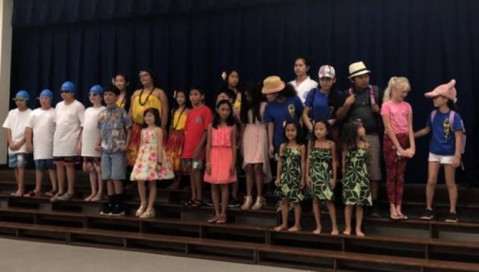 Photo courtesy of Makua Leilani