The Pearl City Lady Chargers advanced to the Oahu Interscholastic Association Division I Soccer Championship title game after beating OIA East Champion Moanalua 3-2 (PK) Tiursday night in the semifinals played at Kaiser High School. Pearl City and Moanalua followed regulation play with two OT periods before the Lady Chargers won the game on penalty kicks.
Alyssa Bautista and Sunshine Fontes scored first half goals for the Lady Chargers. Fontes was injured and did not return after scoring her goal that tied the game at 2-2 late in the first half. The Lady Na Menehune scored two first half goals with Kelci Sumida kicking in the first goal and second goal scored via an own goal.
In the penalty kick period, Hepua Sorenson filled in for Lady Charger starting goal keeper Naomi Takata who suffered a second half injury. Sorenson blocked two Lady Na Menehune shots while Caylie Uyema, Saige Kalani, and Soraya Santos scored on PK attempts to lead the Lady Chargers to victory.
Pearl City will face Aiea in the championship title game scheduled for Saturday, January 19 at Kaiser High School with kick-off set for 6:30pm. Aiea defeated regular season OIA Western Division Champion and defending OIA Division I Champion, Mililani 1-0 in the semifinals to advance to the championship. Aiea handed Pearl City their only loss of the regular season 1-0.
GO LADY CHARGERS!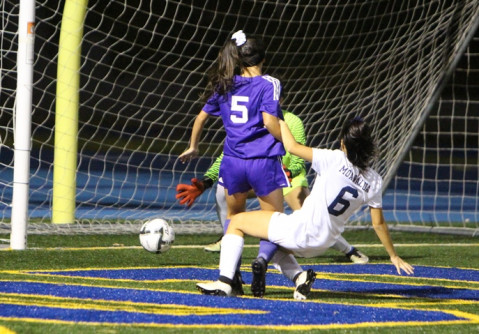 Photo by Barry Villamil | barry@mypearlcity.com
Pearl City's Alyssa Bautista scored the Lady Chargers first goal early in
the first half to put the Lady Chargers up 1-0 over the Lady Menehune.