Congratulations to the Pearl City Lady Chargers who shut-out the visiting Kapolei Lady Hurricanes 5-0 last night in the first round of the HHSAA State Division I Girls Soccer Championship Playoffs played at Pearl City High School's Edwin Bino Neves Stadium.
Pearl City spread the wealth in scoring with five Lady Chargers scoring a goal apiece in their very impressive first round win. The Lady Chargers took a 1-0 lead before the half on a goal by Jasmine Herodies at the 38th minute. The Ladies Chargers turned it on in the second half scoring four more unanswered goals.
Goals:
Jasmine Herodies (38:00)
Preston Spragling (61:00)
Kaila Takai (69:00)
Soraya Santos (71:00)
Chanyn Santos (73:00)
The Lady Chargers move on in the championship playoffs and will face #4 seed Kekaulike in the quarterfinals on Thursday, January 31, 1:00pm in the Main Stadium at the Waipio Peninsula Soccer Complex.
Thursday's Quarterfinal Matchups

@ Waipio Peninsula Soccer Complex.- Mains Stadium
#4 Kekaulike vs. Pearl City – 1:00pm
#3 Konawaena vs. Iolani – 3:00pm
#2 Aiea vs. Campbell – 5:00pm
#1 KS-Kapalama vs. Mililani – 7:00pm
First Round Results:
@ Hilo – Mililani 2 Hilo 0
@ Pearl City – Pearl City 5 Kapolei 0
@ Maui – Campbell 1 KS-Maui 0
@ Iolani – Iolani 3 Moanalua 0
GO LADY CHARGERS!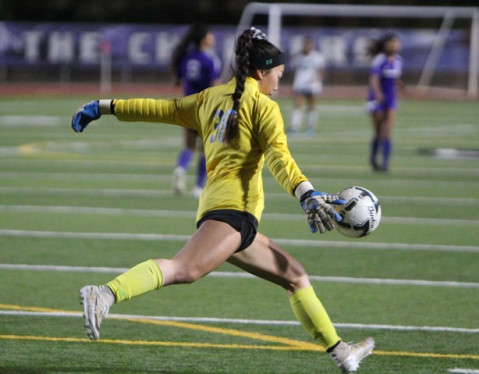 .Photo by Barry Villamil | barry@mypearlcity.com
Pearl City Lady Charger goalie Naomi Takata took care of business at the goal with her
exceptional play by keeping the Lady Hurricanes scoreless in their first round match-up.