Pearl City High School Anniversary Book (1971-2021)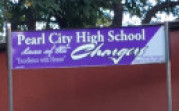 Friends of Pearl City High School (Alumni, Retired Teachers and staff) have formed a committee to collect essays (stories) of student/staff memories of the PCHS history and personal experiences while there.
Purpose: To produce a book to commemorate the 50th Anniversary of Pearl City High School through personal essays of staff, alumni, and students.
Theme: Pearl City High School is a special place where connections were made and experiences felt that remain with us long after we have left the school.
Contents: Personal essays, recollections, photos, stories submitted by staff, alumni and students. We believe that everyone has a story about their experiences at PCHS. Some may be funny, others, intellectual and others incredible. We would like an assortment.
Audience: Readers who have a connection with the school or an interest in the history of the school.
Guidelines: Stories should be true and appropriately written to celebrate the school's 50th anniversary. Stories are intended to be published so submit stories that can be publicly shared. Stories may be edited to address purpose of book and format.
Goal: To connect/reconnect PCHS alumni, staff, administration and community to form a network of support.
Submittal: We believe that everyone has a story to tell and are encouraging all to submit something. It does not have to be long or perfectly written. We will edit as necessary with the intention of keeping the "spirit" of the piece. Some writing topics include: a learning lesson, a sad farewell, a belated "thank you", a regret or a special time and place.
Please submit your contribution via email to Sherry Abe at PCHSbook@gmail.com Send your essay or photo as an attachment or mail hard copy to Pearl City High School 2100 Hookiekie St. Pearl City, HI 96782 Attention: Nikki Takai (book).
Include your present name_____________________________ (name while at PCHS if different)_____________________________Class of _________
Address ________________________________________________________
Email ____________________Cell Phone ________________________
Deadline August 2019
Want to get involved or have questions- Contact Joanne Ing at Joanneing0046@gmail.com or visit www. pchs50th.org