As we get closer to the end of the 2018-2019 school year, I am truly honored for the opportunity to be invited to each of the 10 Pearl City District Complex Schools during the school year to showcase the amazing accomplishments, success, and special bond of friendship and ohana between each school's students, faculty, staff, administration, and supporters on MyPearlCity.com.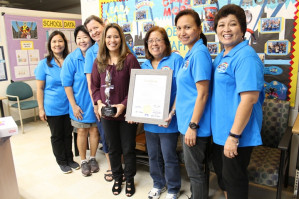 Photo by Barry Villamil | barry@mypearlcity.com
Principal Kunihisa is pictured with her Kanoelani Elementary
staff holding her awards inside the school's admin office
I would like to recognize Kanoelani Elementary School Principal, Stacie Kunihisa who was honored in April 2019 with two very prestigious awards that were well deserved and celebrated by her Kanoelani Elementary School ohana, fellow Pearl City Complex District School Principals and their schools, as well as the Department of Education throughout the state.
2018-2019 Awards
$25,000 Masayuki Tokioka Excellence in School Leadership Award
Island Insurance Foundation

The award is in its 15th year and annually recognizes an outstanding public school principal. Principal Kunihisa received $15,000 for a school project, and $10,000 for personal use.
National Distinguished Principal Award – State of Hawaii
Spirit of a Leader – Hawaii Elementary and Middle School Administrators Association
Principal Kunihisa will represent Hawaii at the National Association of Elementary School Principals in Washington, D.C. in October 2019
Principal Kunihisa has a humble heart and feels blessed to have received the awards amongst the other candidates who she feels were deserving of the awards for their hard work in the schools they represent.
"I was stunned and humbled to receive and be recognized for the awards," said Principal Kunihisa. "I really respect the people I was up against. They work really hard. I think it was a blessing, because whoever won out of those awards, each of them is so deserving. We all work hard and we all have great things going on in our schools. I just feel blessed to win the awards."
Principal Kunihisa has a huge heart and extends a feeling of warmth and caring with each day upon her Kanoelani ohana through the "Choose Love Movement" program. The Choose Love Movement incorporates the four pillars of COURAGE, FORGIVENESS, GRATITUDE, and COMPASSION as a part of the school's curriculum.
Principal Kunihisa (Stacie) is a dear friend and I am extremely proud of her. She shares her love and success with everyone in her life with extended and open arms. Together, Principal Kunihisa and I serve as Pearl City Community Association (PCCA) Board of Directors and I am inspired and admire her commitment to bettering the lives of our Pearl City residents and their ohana through her PCCA volunteer efforts.
Thank you Stacie!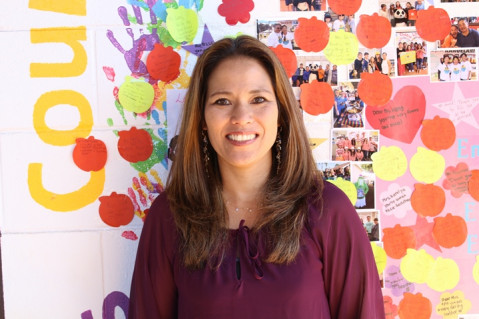 Photo by Barry Villamil | barry@mypearlcity.com
Kanoelani Elementary School Principal Stacie Kunihisa
is pictured in front her school's "Choose Love" wall.
Photo by Barry Villamil | barry@mypearlcity.com