Former Momilani Elementary student, Reina Takahara, was part of a team of 4 girls who qualified for the 2019 Girls Go CyberStart Nationwide Competition and finished in 6th place after a grueling 36 hour cyber security challenge. The team considered to be one of the youngest with 2 freshmen and 2 sophomores initially competed against 11,000 high school girls from across the U.S in the first round. 6600 girls who scored the highest qualified for the second round. After the second round, only 120 teams of 4 girls each qualified for the third and final round, the National Championship. Each round consists of a series of cybersecurity digital games and challenges with increased difficulty.
The Girls Go Cyberstart is a Governor backed program from the SANS Institute to help girls explore the fascinating field of cyber security and bridge the skills gap in the U.S. The competition challenges touch on areas like cryptography, Linux, Python, web vulnerabilities, and forensics.
Reina is a sophomore at the Myron B Thompson Academy and started this club to expand her interest in computer science. She found the field of computer science fascinating after taking a class in programming from Momilani Elementary teacher, Shane Asselstine. Reina is transferring to Waipahu High School in the fall so she can enroll in computer science classes from Leeward Community College through the Early College and Running Start programs. She would like to pursue a career in Mobile Software Engineering.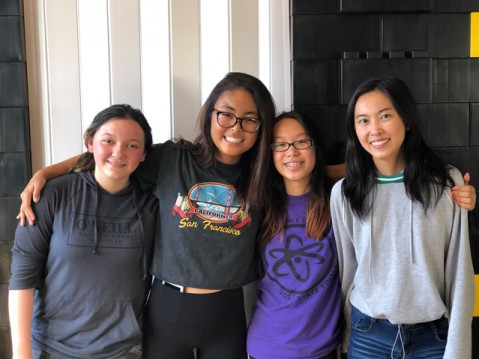 Pictured from right to left: Reina Takahara,
Kyla Lee, Aina Endo, Shelby Sibert