Congratulations to the newly crowned Pearl City State Champions who captured the 2019 Junior League (13-14 ) Hawaii State Championship after defeating Kaneohe 15-0 (5 innings) on Monday at Central Oahu Regional Park in Waipio.
Eli Oshiro earned the state championship win for the Pearl City.
Pohaku Kaha'i got the start for Kaneohe.
Pearl City jumped out to an 8-run lead on 6 hits in the top of the first inning and never looked back. The inning was highlighted by Asher Kwon's bases loaded hit into left center field that cleared the bases scoring four runs.
Pearl City dominated the state championship tourney with lop sided wins over Molokai and a two game sweep of Kaneohe.
The champions earned their way to the western regional tournament that begins on July 27 in San Jose, California.
Congratulations to Pearl City manager Eric Boyles, his coaching staff, and the amazing and talented state championship team and their ohana!
"This feels great and I'm real proud of these boys," said Pearl City Manager Eric Boyles. "They performed as they can and it was all them. They worked hard to get here and hopefully we represent Hawaii well on the mainland. This is a great group of kids along with parents who stuck with us with everything that we're trying to do with these boys. I've been with these families since pee wee time and the kids played together ever since. It's an honor to represent Pearl City Little League and Hawaii. It's our second year in a row and hopefully we can make it to the World Series."
"It felt really good today to win," said state championship winning pitcher Eli Oshiro. "Kaneohe did pretty good battling back to the championship game. My teammates really backed me up today, also my coaches and family. Without them, it wouldn't of happened. I've been playing together with my teammates since we were small and it's really exciting to represent Hawaii together in the Western Regionals. Thank you to my parents and coaches and everyone who came out today to support us."
GO PC!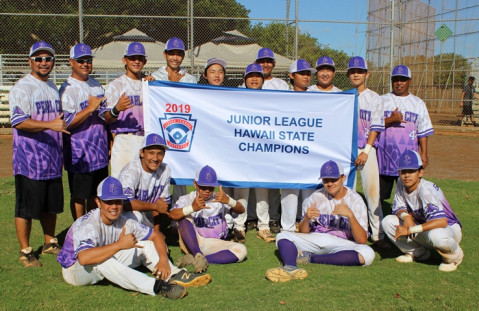 Photo by Barry Villamil | barry@mypearlcity.com