The popular pizza spot located in Pearl Highlands Center is known for

their made-to-order pizzas and extensive selection of local beers on tap.
This is a headline you won't want to miss. Pearl City's newest pau hana spot is slicing up happy hour from 3 p.m. to 6:30 p.m. every Monday through Thursday. During happy hour guests will flip for their special offers, such as their Pint and Pizza Deal, which includes a pint of beer and personal pizza with two toppings for just $11.

Diners can also enjoy the following $5 pupus on happy hour:
– Garlic cheesy bread
– Mozzarella sticks
– FRings (a combination of fries and onion rings)
– Chicken wings (four pieces).

And to wash it all down, choose from a selection of $5 pints, including Golden Road Mango Cart, Golden Road Get Up Off the Brown, Kona Big Wave, Maui Bikini Blonde and the eatery's exclusive The Pizza Press Blonde Ale.

Since football season just kicked off, diners can get out of the heat and "tailgate" in the cool comfort of The Pizza Press! Cheer on the home team and watch all University of Hawaii football games on one of six of the eatery's big screen TVs, as well as your favorite NFL teams for Monday and Thursday Night Football, all while scoring special prices on food and drinks.

Sarah Nguyen, who brought The Pizza Press to Hawaii with her husband Phil, said, "As local residents, we know what a big deal football season is. We wanted to create a place on this side of the island for our guests to come enjoy the game with family and friends, all while enjoying ono food and their favorite cold drink!"

The Pizza Press features an interactive, open-kitchen layout that invites customers to "publish their own pizzas" by choosing from a large selection of fresh, premium toppings. With more than 50 different fresh ingredients to choose from, diners can select everything from the type of dough, sauce, toppings, and cheese they'd like on their custom-crafted pizzas. Gluten-free and cauliflower crusts and vegan cheese are also available. Once the pizzas are assembled, they are published and hot off the press within four minutes. To pair with your pizzas, are more than 24 local, craft beers on tap, as well as an exciting menu of appetizers.

For more information on The Pizza Press, visit www.thepizzapress.com/. Also follow the Pizza Press on Facebook at www.facebook.com/thepizzapresspearlcity/and on Instagram at www.instagram.com/thepizzapresspearlcity/.

About the Pizza Press:
Founded in 2012, The Pizza Press is a top pizza franchise dedicated to bringing the 'build your own pizza' model to a new, experiential level. The restaurant offers an immersive, 1920s Americana-inspired newspaper theme where delicious food and the finest craft beers are combined with a fun ambience and incredible service. The Pizza Press' theme is inspired by the mechanized dough press and harkens back to an era when newspapers were part of the foundation of every town.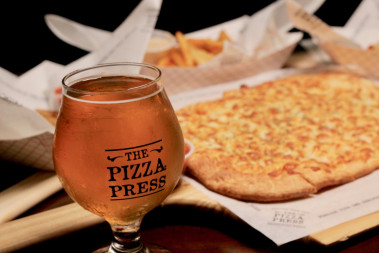 Photo Credit: The Pizza Press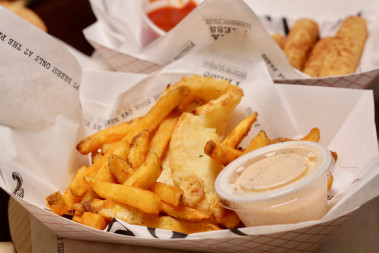 Photo Credit: The Pizza Press