The Pearl City Chargers 2020 Senior Class went out in style last night following a thrilling 29-23 OT win over the visiting Waialua Bulldogs in the regular season finale for both teams at Pearl City High School's Edwin Bino Neves Stadium.
The Chargers ohana bid farewell to 28 seniors who played in their last game of their very successful careers as Pearl City Chargers.
Congratulations was also extended to Charger Head Coach Robin Kami who became the winningest head coach in the history of the Chargers varsity football program with 40 wins. Coach Kami was tied with Joe Francis at 39 wins entering last night's season finale against Waialua.
ALOHA SENIORS!
#3 Gabriel Parrish, #7 Kody Kikuyama, #8 Skylar Kihewa, #10 Stanton Hong, #11 Preston Hong, #12 Makana Canyon, #14 Adam Puchert, ##15 Jonah Komomua, #16 Nu'usegi Afoa, #20 Kelly Pascual, #21 Juan Vargas, #23 Herbert Hallers, #30 Victor Atkins, #32 Gabriel Kuheana, #40 Hezekiah Salsis-Ganigan, #45 Mako Ader, # 50 Tyler Fernandez, #53 Skylar Kaliikane-Mcmoore, #56 Brad Fa'auliuli, #60 Pohiva Talaiasi, #63 Jared Yamabayashi, # 65 Matthew Araki, #68 Lopaka Feesago, #76 KM Elieisar, #78 Isaiah Gambol, #80 Skydon Gella-Kaneaiakala, #88 Eric Rios, #89 Isaiah Basilio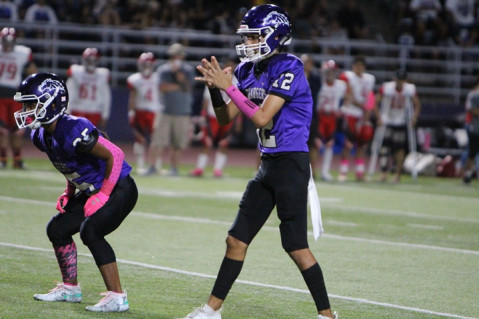 Photo by Barry Villamil | barry@mypearlcity.com
Pearl City Chargers starting QB Makana Canyon led his team to victory for the
final time last night in the Chargers 29-23 overtime win at home against the Waialua
Bulldogs. On September 21. 2019, Canyon set a school single game passing record
of 372 yards in a 35-34 road loss in overtime to the Nanakuli Golden Hawks.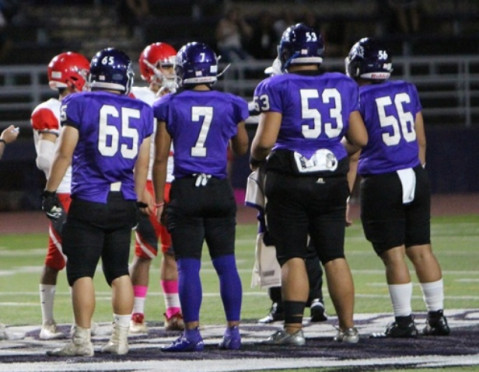 Photo by Barry Villamil | barry@mypearlcity.com
Charger team captains (L-R) Matthew Araki, Kody Kikuyama, Skylar Kaliikane-Mcmoore, and
Brad Fa'auliuli meet at the 50 yard line last night for their final coin toss against the Bulldogs.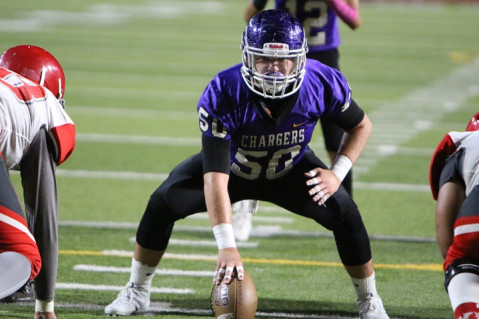 Photo by Barry Villamil | barry@mypearlcity.com
Pearl City Charger senior linebacker and OL specialists Tyler Fernandez.