Come out to Les Murakami Stadium on the campus of the University of Hawaii this weekend and cheer on the "Stars of the Future" at the Wally Yonamine Foundation 2019 Baseball in Paradise Youth Classic.
Pinto baseball players ages 7-8 will play in the 12 team tournament on Saturday, November 9 and Sunday, November 10. Please see the game schedule match-ups and game times below.
The ball players will receive a special treat from University of Hawaii Head Baseball Coach Mike Trapasso and his amazing Rainbow Warrior players and staff who will serve as coaches, umpires, and mentors.
Pearl City Connection:
Pearl City High School alumni, Coach Brandon Yamamoto '02 will lead his Aiea Hustlers, along with PCHS alumni Coach Jason Malacas who skippers Rip City.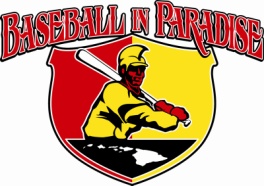 Saturday, November 9, 2019
Field 1 – Main Diamond
| | | |
| --- | --- | --- |
| 9:00 | Aiea Hustlers | HK Dodgers |
| 10:30 | Manoa Crowns | Manoa Orioles |
| 12:00 | Mililani Astros | Manoa Yankees |
| 1:30 | Aiea Pirates | Kahaluu Rockies |
Field 2
| | | |
| --- | --- | --- |
| 9:00 | Manoa Crowns | Manoa Yankees |
| 10:30 | WK Cubs | Kahaluu Rockies |
| 12:00 | Aiea Pirates | Manoa Orioles |
| 1:30 | Mililani Astros | HK Dodgers |
Field 3
| | | |
| --- | --- | --- |
| 9:00 | Rip City | WK Cubs |
| 10:30 | Aiea Hustlers | Nanakuli Hawks |
| 12:00 | Go Deep | Nanakuli Hawks |
| 1:30 | Go Deep | Rip City |
Field 2 – left field
Field 3 – right field
Sunday, November 10, 2019
Field 1 – Main Diamond
| | | |
| --- | --- | --- |
| 9:00 | Go Deep | WK Cubs |
| 10:30 | Rip City | Nanakuli Hawks |

Field 2
| | | |
| --- | --- | --- |
| 9:00 | HK Dodgers | Manoa Orioles |
| 10:30 | Aiea Pirates | Manoa Crowns |

Field 3
| | | |
| --- | --- | --- |
| 9:00 | Aiea Hustlers | Mililani Astros |
| 10:30 | Manoa Yankees | Kahaluu Rockies |
Field 2 – left field
Field 3 – right field