I would like to share the beautiful and heartfelt words below from a son to the spirit and soul of his mother who put others first with a caring heart that now radiates forever in the light of the Lord while shining upon the memories of those she touched and who pray for her with each day.
Dear Barry,
First of all, I would like to take this time to congratulate you, once again, on the publishing of your book. It is a perfect addition to what makes our community so great.
Thank you for giving me this opportunity to express my family's profound gratitude to everyone for all of their kind words and outpouring of sympathy over my mother's passing. We are humbled by the amount of lives she has touched.
Although many people will have known my mother as the lady with the dog, many did not know about her. Like many people of her generation, my mom was a very humble person, who shied away from the limelight or any kind of fanfare.
To all of her neighbors, friends, casual acquaintances, and the many people who have asked about her and wanted to know more about her, we would like to share some of her life's story with all of you. Once again, thank you Barry for providing the perfect platform to allow this to happen…
——————————————————-0—————————————————
My Mom was born Rosalina Pagaduan on July 29, 1935 in the town of Waimea, in the Village of Makaweli, on the island of Kauai, in the Territory of Hawaii. To her grandchildren, and their friends, she was known as "Mama"… to her students, she was "Miss Rose" or "Mrs. Talon." To her friends and colleagues, she was simply known as "Rose."
At a very young age, she moved to Honolulu and later graduated from McKinley High School in 1954. She then attended nursing school and successfully became a Licensed Practical Nurse. She subsequently worked at the Queen's Hospital.
My dad, Miguel, and my mom got married on April 15th, 1956, and stayed happily together for 52 years until his passing in July of 2008. To this day, we cannot mention one of them without mentioning the other.
In 1957, after the birth of her first of two daughters, my mom stopped working so she could dedicate her time to being a full-time mother.
In 1964, our family moved to our home in Pearl City, and in 1969, when I began attending Pearl City Elementary School, my mother began doing volunteer work with the faculty and staff there. She eventually became the Health Room Assistant due to her nursing background and, later, a substitute teacher, working mainly at Pearl City Elementary.
In the 1970s, my mom became a Teacher's Aide, and began working with Special Education Pre-School students. She would continue as an aide at Manana Elementary, Waimalu Elementary, and Pearl Harbor Elementary Schools in the 1980s.
Some of the things mentioned to me when preparing her eulogy was how kind and generous my Mom was with her students. She would never raise her voice or get angry and she and my dad would even go out on their own and get essential things for them like decent clothing, school supplies, and even toys.
My Mom also later became a foster parent to one of her "more challenging" students for several months.
After my Mom retired in the early 1990s, she and my dad, who had also retired, began volunteering their time at Pearl City Elementary School, when their grandsons began their formal education there.
Their volunteer work included, but was not limited to, providing plants to decorate the stage for Mayday and other special events and making shaved ice and cotton candy that was sold during fund-raisers for the JPOs and School Choir, which some of my nephews were a part of.
In 1993, my Mom was diagnosed with breast cancer. After undergoing a lumpectomy, my mom eventually received chemotherapy and radiation treatments, and her breast cancer went into remission in 1995 – and never returned.
During the 1990s and 2000s, my Mom and Dad continued to do volunteer work at Pearl City Elementary School until their youngest grandson entered intermediate school in 2004.
Throughout this time, they were bestowed numerous awards and accolades… On one such occasion, they were unknowingly invited to an assembly in which they were the guests of honor because the faculty, knowing how humble "Mama and Papa" were, was afraid that they wouldn't show up due to their modesty and fear that they were not worthy of such recognition.
"Mama Rose" had several hobbies throughout her lifetime… She enjoyed working in her yard and on her numerous plants that adorned the landscape. She would often give plants away to anyone who mentioned how much they admired them.
In August of 2005, "Mama Rose and Papa" were bestowed the "Yard of the Month Award" by the Pearl City Neighborhood Board Number 21.
In 2008, after my Father's passing, I was fortunate enough to be able to retire so I could make life a little easier for my mother. I have absolutely no regrets for doing so.
In 2010, "Kuro," my mom's Chihuahua-Terrier was born and another chapter of her life had started. She eventually began taking him on daily walks (Actually, it was Kuro who took my mom places) throughout the Pearl City area.
One of the regular places Kuro would take her was the Pearl City Shopping Center where she made friends with many people who stopped to say hello to them and admire Kuro while they sat either at Ezogiku, near Ben Franklyn, or under the big tree in front of Don Quixote.
Some of the people that she befriended there included "Aunty Gail" and the ladies of the Senior Crafters of Ben Franklin (Pearl City), "Air" and "Alan" of the restaurant Ezogiku, "Ms. Chung" at Sadie's Barbeque, and "Kevin" and "Paulo" of the maintenance and security staff. They would meet just about everyday and became family to my Mom. Being able to see them was the highlight of her day. I am eternally grateful to them for making my Mom's last years so enjoyable.
When my Mom became Ill at the beginning of August, I eventually started bringing Kuro for his walks in the mornings and afternoons. To this day, all of her neighbors, and all of my mom's acquaintances, even strangers, at the shopping center and throughout Pearl City, would all tell me how kind she was and how just the site of her would be enough to brighten their day.
My family would like everyone to know that their words of encouragement and later sympathy have helped us through what has been the most difficult time of our lives. Their acts of kindness and the joy that they brought to my mom have meant the world to us.
On October 27th, 2019, after 2 and a half months of extreme pain while battling an insidious disease, my Mom – the kindest, gentlest, and most humble person that I know – passed away in her home in Pearl City. She was 84 years old.
(The following is an excerpt from my mother's eulogy
🙂
"…the thing that I'll remember most about my mother, is how she taught me that by just being kind, caring, non-judgmental and being humble enough to not expect anything in return, your selfless acts will always touch someone else in a positive way… and that person will want to pass your good deed on to someone else down the road. In essence, she taught me that you CAN actually make a difference… You CAN change the world …one person at a time.
…I will humbly close now by just being grateful and saying:
Thank You Mama,
I Love You…"
———————————————————0———————————————–
Rosaline P. Talon
July 29, 1935 – October 27, 2019
She is survived by her children: Daughters Rosella (Eric) Motoki, Michelle (Harold) Bernard, Hana'i daughter Robin (Rodney) Price, of Virginia, and son David, five grandsons, three Hana'i granddaughters (residing in Kansas and Virginia), and their three Hana'i great-granddaughters. She is also survived by her older brother, Pablo, who resides in California. And, last, but not least, she is also survived by her faithful dog, and trusty companion, "Kuro."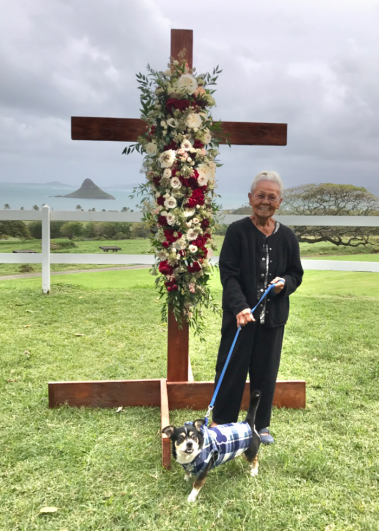 Photo courtesy of David Talon
Rose Talon and her companion Kuro.
Photo by Barry Villamil | barry@mypearlcity.com
David Talon and Kuro pictured at the Messages of Life
Healing WALL located at the Pearl City Shopping Center.