Congratulations to the amazing Pearl City Lady Chargers who defeated the #2 Mililani Lady Trojans 2-1 Thursday night in the quarterfinals of the HHSAA Division I Girls Soccer Championship Tournament played at the Waipio Peninsula Soccer Complex Main Stadium.
Goals:
Pearl City – Soraya Santos (23:00), Kaila Takai (43:00)
Mililani – Jacey Jicha (20:00)
The Lady Chargers move on to Friday's semifinals against #3 King Kekaulike who defeated Punahou 1-0 in a quarter final match up on Thursday. The Pearl City vs, King Kekaulike semifinal will kick off at 7:00pm in the Main Stadium.
#1 Kamehameha-Kapalama will meet #4 Konawaena in the other semifinal scheduled for 5:00pm in the Main Stadium.
Kamehameha-Kapalama defeated Kamehameha-Maui 1-0 and Konawaena beat Moanalua 1-0 on Thursday to advance to the semifinals.
GO LADY CHARGERS!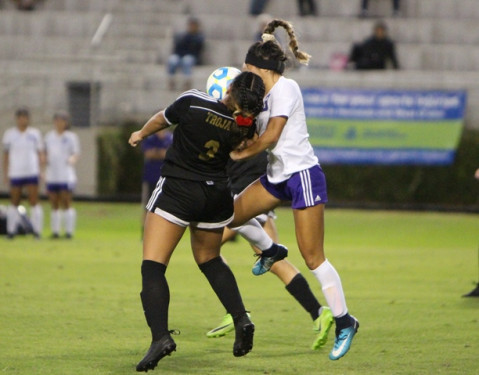 Photo by Barry Villamil | [email protected]
Pearl City's Kaila Takai goes head to head with a Mililani defender in the second half. Kaila
scored the go ahead goal at 43:00 of the second half that put the Lady Chargers up 2-1.