On February 5, 2020, Pearl City High School senior Brady Fa'auliuli proudly put his signature on the dotted line of a National Letter of Commitment to attend Missouri Southern State University via a football scholarship. Family, friends, football coaches, and Pearl City High School administrators and staff gathered inside the PCHS conference room in support of Brady who attributes his success to those in his life that have helped and guided him along the path to reaching his higher education goals and dream of playing collegiate football.
In his four years at PCHS, Brady has been an inspiration to the PCHS ohana for his efforts and accomplishments in the classroom, on the football field, and in the community. As a decorated all-state football player, he is grateful to the Charger coaching staff, beginning with head coach Robin Kami , Coach Cajo (defensive coordinator), Coach Kaji (student/athlete after school tutor), and Mr. Miysahiro (assistant athletics director) . He is appreciative to Coach Vince Nene who was instrumental in connecting Brady to Missouri Southern State University. Coach Vince also served as Brady's position coach for a couple years at Pearl City High School.
Brady is supported by a loving family that has instilled in him a philosophy of hard work and sacrifice that has positioned and guided him in reaching his higher education goals of earning a scholarship to play college football and earn a degree.
Pride and heartfelt emotions resonated around the conference room as Brady held up his signed letter of commitment. The very special moment was followed by warm embraces from everyone in attendance, as well as extended congratulations filled with love and aloha from family members not able to attend.
Upon graduation in May, 2020, Brady will leave behind a legacy built upon a unique foundation of inspiration that truly exemplifies and perpetuates Charger "Excellence with Honor". His legacy defines hard work, compassion and appreciation for others.
Brady Fa'auliuli
"I feel blessed. Not everyone can go to a Division I or Division II school. For me to get offered is a really big thing. During my four years as a Charger I have really gotten to know the community, especially through their support at every game win or lose. They have been there for all of us. I would really like to thank coach Kami and coach Cajo for helping me on the field all four years. I would also like to thank Coach Kaji for helping me in school and Mr. Miyashiro. "
Aga'alofa Haro Jr. (Dad)
"This is a blessing. We thank God first and foremost. It's a great opportunity for him taking it to the next level. What's most important is his education. Again, first and foremost we want to thank God and all his coaches. Coach Kami and Coach Kaji and everybody that helped make this possible for him. We're confident that he is ready to go off on his own. We have been giving him all the lectures to proceed on his own. But that's not going to stop me from constantly checking up on him. "
Lynette Sauni Haro (Mom)
"I'm proud of Brady. He's come a long way and as the saying goes, "it takes a village to raise a child". He is a product of so many people. He has a great flood of support from everyone and family. We're just grateful he's gotten to this point and we can wish him luck wherever he goes next. Thank God for always guiding this kid through. His coaches, there's too much to name, but especially to Coach Vince for pushing this through. Also, his family here and abroad who wish they could have made it."
Coach Robin Kami
"Today was a very important day for Brady and for the Chargers football program. Brady is keeping his dreams alive and getting an education. I told him that it's going to be tough on the mainland, but never quit. Whatever you start, finish. Once you get a degree, no one can take it away from you. It doesn't matter what division you play in, Division I, II, III, or Junior College, you earned your Bachelor of Arts degree. Maybe if he does well, he can go and play in the NFL. Always pursue your dreams. "
Coach Vince Nene
"I was Brady's position coach two years ago when he was a junior. I didn't coach here last year, but I coached him in the off-season for workouts and training. Through all of that and his game film from his senior season, and his grades, I was able to get him a scholarship to Missouri Southern State University. I would like to make a shout out to Coach Kami who brought me out to coach him two years ago and also to the Pearl City Chargers coaching staff. "
Brady's path ahead is focused upon his highlighted vision of reaching future goals in life from opportunities earned and blessed upon him. The Heart & Soul of Brady's success comes from within and is extended to those who can directly benefit from his experience, courage and inspiration.
Aloha Brady!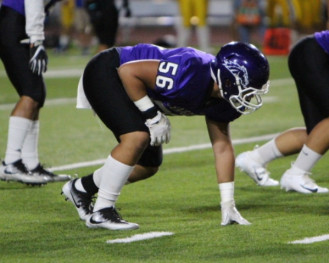 Photo by Barry Villamil | barry@mypearlcity.com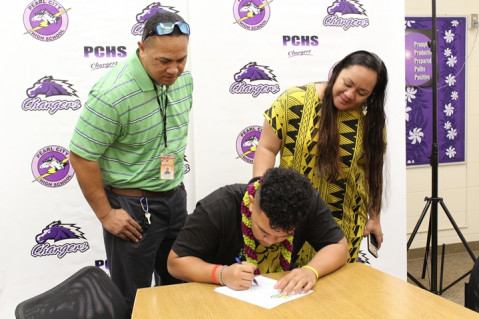 Photo by Barry Villamil | barry@mypearlcity.com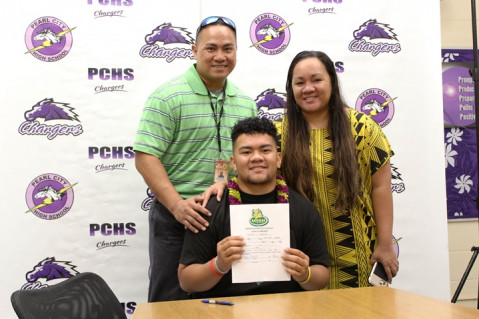 Photo by Barry Villamil | barry@mypearlcity.com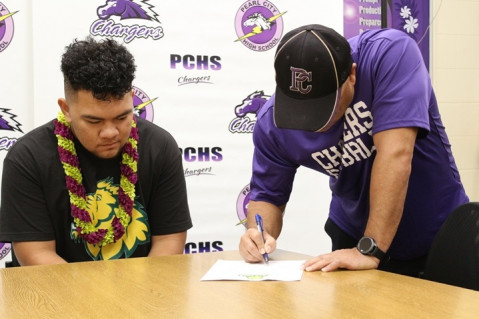 Photo by Barry Villamil | barry@mypearlcity.com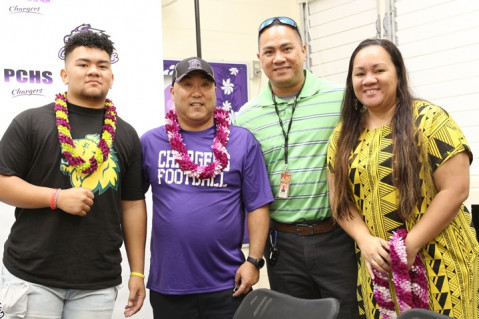 Photo by Barry Villamil | barry@mypearlcity.com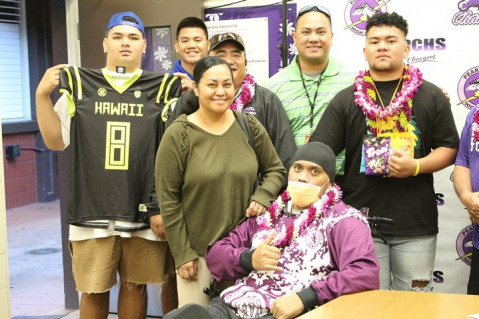 Photo by Barry Villamil | barry@mypearlcity.com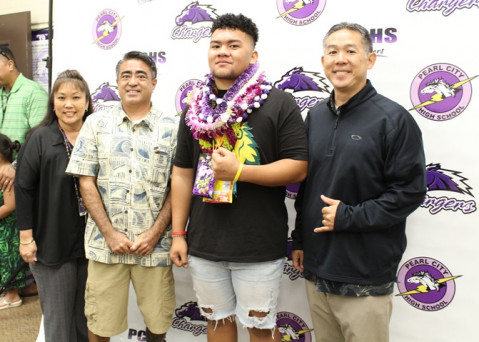 Photo by Barry Villamil | barry@mypearlcity.com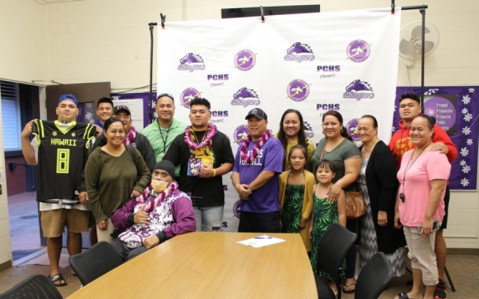 Photo by Barry Villamil | barry@mypearlcity.com