Hello amazing Lions!
I just wanted to first thank you all for giving me this opportunity to help serve not just our community but also the people in our state. These are the results from our Pearl City Lions Club blood drive hosted this past Saturday, February 22, 2020 from 8AM to 1PM. Our Pearl City Lions Club helped to save up to 120 lives thanks to the amazing donors who came out and put the needs of others before themselves.
1 person = 1 pint
Patient need promise (our goal) (pints) = 20
Scheduled appointments online (on Saturday morning) = 20
Registered donors = 43
Pints collected = 40
Deferrals = 3
First time donors (actual donations) J = 14!! Amazing!!
40 pints*3 (types) = 120 lives!
Photo credit: Jamie Moriguchi
Mahalo Pearl City High School Leos!
table for the informational/sign-up tabling days on Monday, February 10 from 3PM-6PM and Friday, February 14 from 3PM-6PM. BIG thanks to Lion Jamie Moriguchi, Lion Xiomara Schiller, Leo Iris Ponce (VP and blood drive chair) and their amazing Pearl City High School Leos (Nalani Tokuhama, Michaela Sy, Alyssa Madelo, Valeska Flood Alvarado, Erika Young, Moana Aquino, Kaelin Ogawa, Jhinyce, Alyssa Dollente, Sarah Wong, Taylor Agena, Cyd Sugiyama, Amaia Cariaga, Saige Adaro) who volunteered their time to sign-waving and passing out flyers during the informational/sign-up tabling days and on the day of the blood party. I hope to have their continued support as our blood parties get bigger and better! Big thanks to Lion Tammy and Lion Ken Muranaka, and Lion Glenn Yokoyama for sign-waving and flyering at Don Quijote on the day of the blood drive. Thank you so much to Lion Gerald Hirata and Lion Vaughn Miyauchi for hanging up my ripped blood drive banner in the morning, haha! Thanks Lion Brian Akimoto for stepping up to fix the banner as well, haha! And big thank you to Lion Charlenee Caraang, Glenn Yokoyama, Lion Sharon Ige, and Lion Brian Akimoto for donating blood!!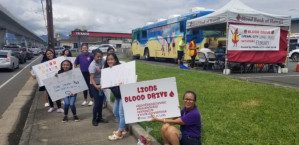 Photo credit: Jamie Moriguchi
It truly is heartwarming when a drive is able to provide the number of pints promised (and more! We doubled!) to the hospitals in Hawai'i so their patients and families can feel comforted in knowing that the blood supply needed for their surgeries/treatments is there. I am so honored to be able to partner two amazing organizations in helping to serve by saving the lives of the patients of Hawaii! Please continue to spread the word about our Pearl City Lions Club blood drives as I hope to continue to make it a consistent project throughout the year.
Our next blood drive is scheduled for Saturday, April 18, 2020 from 8AM to 1PM at Pearl City Longs Drugs parking lot. Considering the high influx of lifesavers that stood in line this past Saturday at our new location, I will work hard with Traci Takehara the Blood Bank Recruitment manager for Pearl City so the time may be extended to 2PM. Until then, the blood party will be from 8AM to 1PM.
Lion Charlenee Caraang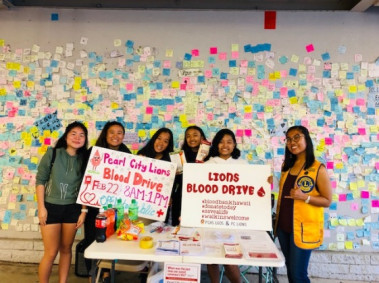 Photo credit" Charlenee Caraang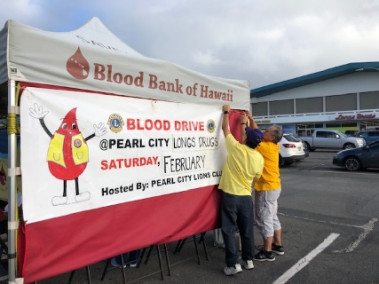 Photo credit: Charlenee Caraang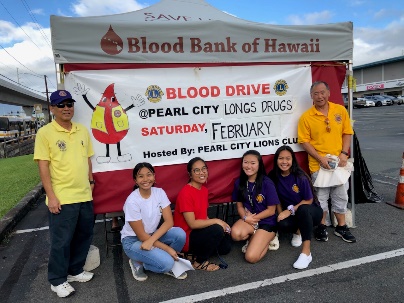 Photo credit: Traci Takehara