I would like to share and update from HPD Captain Mike Lambert regarding this week's relocation of Pearl City's POST Blue Zone site from Lehua Community Park to Keehi Lagoon.
"As promised we have removed operations from Lehua Community Park due to the reopening of the city parks and the potential of summer school programs ensuing in July. We have consolidated operations at Keehi Lagoon and only intend to return to Lehua Community Park if there is a resurgence of COVID-19 cases that creates a new lock down by the Governor or Mayor. That is given that we do not gain approval for Sand Island Park prior to a second wave.
The temporary fence has been opened to allow people to easily traverse the park, but we left it in so it can be easily converted back. Once we know that we have another location confirmed we will completely remove the temporary fencing, at which point Lehua will be removed from our strategic plan"
Thank you Captain Lambert and the HPD team for your commitment to a positive and successful transition from setting up and managing the PC Blue Zone site, to its relocation to Keehi Lagoon while keeping us all informed with each update.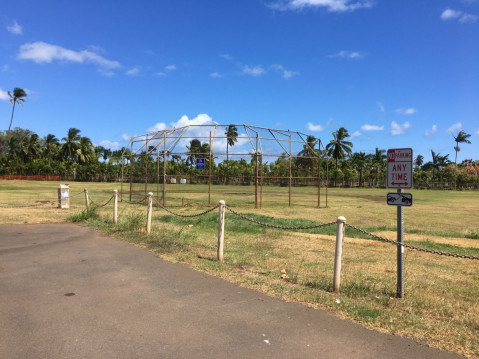 Photo by Barry Villamil | barry@mypearlcity.com
The Lehua Community Park POST Blue Zone site located in
Pearl City has been relocated to Keehi Lagoon. Photo of recently
cleared POST Blue Zone site was taken on Saturday, June 20, 2020
.