I would like share a message of thank you from Sheri Rolf who is recovering in Texas from emergency surgery to remove a brain tumor while on vacation.
"Sheri Rolf said she wanted to thank the Pearl City ohana for their prayers and good wishes," said Dave Rolf, husband of Sheri Rolf. "Diagnosed with a large brain tumor while visiting family in Texas, Sheri was scheduled for immediate brain surgery in Dallas. Shown here, in Waco, Texas, after returning from the Clements University Hospital, UT Southwestern, she sends a smile and a shaka.
Sheri is promotions director for the Pearl City Shopping Center Merchants Association. For decades she has been active in the Pearl City community, helping to coordinate the Pearl City Christmas parade, and the shopping center's Halloween costume events."
Sheri is the Heart and Soul of the Pearl City Shopping Centers annual community donations program and special annual events that support our Pearl City community."
I have had the honor for the past 11 years to serve with Sheri on the Pearl City Shopping Center Merchants Association Board of Directors. She has a huge heart and leads the way into the Pearl City community with monetary donation presentations in support of Pearl City District Complex Schools and community organizations.
She also organizes and manages the Pearl City Shopping Center's annual Halloween Costume Contest and Trick or Treat Parade, Pearl City Christmas Parade and Chinese New Year Lion Dance Blessing and Celebration.
Sheri shared her Heart and Soul and professional marketing, advertising, and publicity skills in partnering with Watermark Publishing with the planning and marketing of the Stuck on Aloha book launch party held at the Pearl City Shopping Center in late October of 2019. It was an amazing day that was truly embraced and celebrated with our community front and center.
I was so happy when Sheri sent me a text from Waco, Texas during her Christmas vacation to let me know that she had brought up Stuck on Aloha books as Christmas gifts for family members. It was very heartening to hear that they all shared their thoughts and feelings from the hundreds of heartfelt messages.
After hearing the news earlier this week from Dave that Sheri was diagnosed with a brain tumor and was recovering from surgery, my heart instantly connected with her heart and positive spirit.
I was so touched when Dave emailed me the photo below of posted messages that filled a nurse's station at the hospital that Sheri had her surgery and was receiving post- surgery treatment.
Today, Dave emailed me the wonderful photo below from Waco, Texas of Sheri with her beautiful smile and the smiles in the Rolf family portrait in back of her.
Sheri, Dave and the Rolf ohana live every day with Aloha in their hearts and share their giving spirit with everyone. They are all true "Ambassadors of Aloha".
I am sending my love and prayers to my very special friend and want her to know that I cherish every moment together working side by side in our community and time spent together hanging out as buddies.
See you soon!
Barry
With Aloha, Love Lives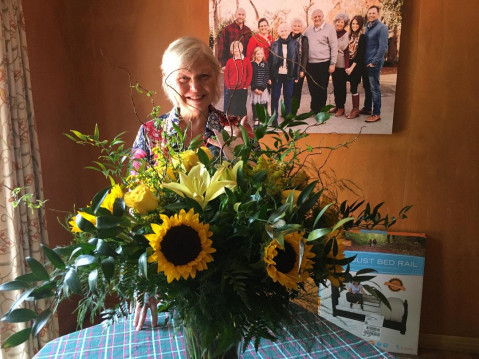 Photo provided by Dave Rolf
Sheri is pictured while recovering from surgery in Waco, Texas. This is a wonderful
picture of Sheri and her beautiful smile standing in front of the Rolf family portrait.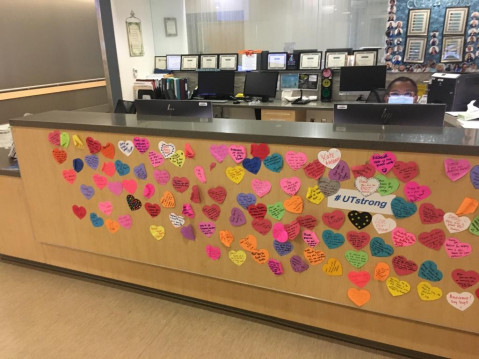 Photo provided by Dave Rolf
Aloha lives at the isolation floor's main desk at Clements Hospital UT Southwester in Dallas.