I would like to express my deepest appreciation to Breene Harimoto who wholeheartedly served his community with inspired courage that continues to radiate a beckon of hope.
As I watched coverage on Tuesday of Breene's memorial service held at the state capitol, I reflected back on my experiences with Breene through the years as friends, community volunteers, and as I covered Breene for MyPearlCity.com in his capacity as our city councilman and state senator.
Breene was instrumental ln introducing a resolution to rename Manana Neighborhood Park to Shigeo Ushiro Manana Neighborhood Park in honor of the legacy of longtime Pearl City resident, community leader, volunteer, and retired Principal of Highlands Intermediate School.
On Wednesday, October 29, 2014, Shigeo Ushiro Manana Neighborhood Park became a reality during an official blessing and dedication ceremony sponsored by Councilman Harimoto's office,
Breene and Shige were close friends who served the Pearl City community together with the Pearl City Foundation and Pearl City Community Association.I am extremely proud and honored for the opportunity to have served with both Shige and Breene as board members at the Pearl City Foundation and Pearl City Community Association.
Shigeo Ushiro, Shigeo Ushiro Manana Neighborhood Park Blessing and Dedication Ceremony
http://www.mypearlcity.com/heartsoul/shigeo-ushiro-shigeo-ushiro-manana-neighborhood-park-blessing-and-dedication-ceremony
Breene will always be missed for his inspired spirit of giving back to others while recognizing those who make a difference in the community.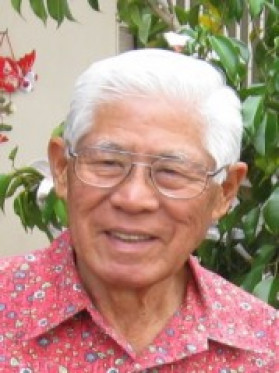 Shigeo "Shige" Ushiro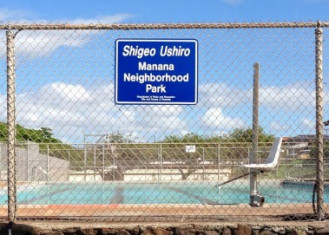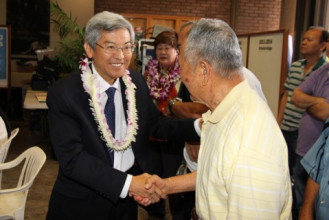 Mission accomplished! Councilmember Breene Harimoto shakes the
hand of Bob Kubo after the passing of Resolution 13-153 that named
Manana Neighborhood Park the Shige Ushiro Manana Neighborhood Park.
Kubo testified in support of his longtime friend and fellow community
volunteer board member.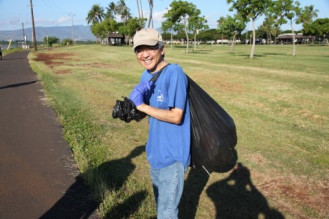 Aloha Breene!