I found a box of sports memories recently that brought me back to a great time in my life playing youth sports in Pearl City for the Peninsula/Manana Colts football team. My father was in the Marine Corps where he retired in 1972. The Colts played in the military league that went up against other military teams representing, Pearl Harbor, Kanohe Marine Corps Base, Barbers Point, Schofield, and Ft. Shafter. It was a very talented and competitive league. The attached photos represent the 1971 Colts where I played QB and defensive end.
I remember Saturday game days at Franklin Field in Peninsula. The field and surrounding park was packed with team buses, players and coaches, cheerleaders, fans and neighbors. On most Saturday's during the season, Franklin Field hosted three games from three different divisions. We also went on road trips to the different bases to play as well. It was so much fun as we battled for each win. I will never forget the fresh grass smell and dirt in my helmet after being pounded to the hard Franklin Field football turf on offense. Fresh strawberry elbows and knees were part of the game. Man, those were the days.
Lots of great teammates/friends and memories; Eddie Tangjian, Alfred Davis, the Barstow brothers to name a few.
I also remember the concession stand at Franklin Field that sold every brand of ice cold soda and juice, candy and ice cream, along with shave ice.
Great time to be a kid playing sports and hanging out with friends!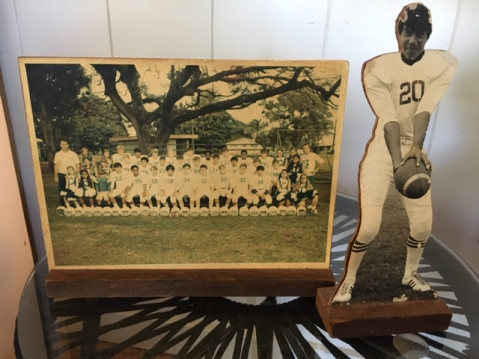 1971 COLTS