I would like to thank my dear friend Kelsey for the opportunity to be a part of Team Peace of Mind and contribute towards her efforts to support the Alzheimer Association of Hawaii's drive to find a cure through yesterday's Walk to End Alzheimer's.
Kelsey's father, and others who are affected by the Alzheimer disease, as well as their caregivers, were given a "Light of Hope" through the love from friends who came out to support her by embracing a beautiful giving spirit that radiates from deep within her Heart and Soul.
I am so honored to have shared my words and thoughts that created the Peace of Mind mission and vision statements that flowed through me from the love and friendship that Kelsey and I share for one another.
Mission: "Together, let love and compassion lead our way, as we stride step by step towards the cure for a brighter day"
Vision: "To be a messenger of Hope to those who live every moment with love in their hearts for the souls they care most about."
Heart & Soul…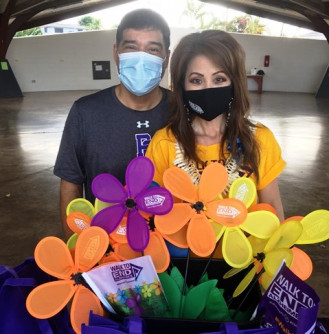 Barry and Kelsey pictured on Saturday, November 6, 2020 at the
Momilani CommunityCente rin Pearl City following the Walk to End Alzheimer's Event
Fundraiser hosted by Kelsey. Kelsey and her supporters donated over $1000.00
that will benefit the Alzheimer's Association of Hawaii
Mahalo to Pearl City Foundation Programs Director Naomi Tully Ungacta and the
PCF Board of Directors for opening the Momilani Community Center doors to serve
as the WALK start and ending points while practicing safe social distancing on Saturday.