I am honored for the opportunity to partner with Pearl City veteran letter carrier and NALC Food Drive coordinator Adele Yoshikawa to begin a special feature series that recognizes our special Pearl City letter carriers from the hearts of their appreciative customers and friends along their routes.
We also hope that the series inspires Pearl City residents like Maureen Oshiro and others who supported the 28th NALC Food Drive with much needed Virtual donations to the Hawaii Food Bank while recognizing letter carriers Ryn Lenchanko and Adele Yoshikawa for their kind and pleasant disposition especially during the COVID-19 pandemic.
Adele Yoshikawa – Pearl City Letter Carrier
"Delivering mail has changed so much since I started 22 years ago. I always say, "We do more than deliver the mail!" Our customers are like our family. Sometimes we see them more than we see our family. The mail volume has quadrupled too! Our customers rely on us and we rely on them.
One of the greatest ways our customers have supported us is through the NALC Food Drive. This is our 28th year yet we are still having our Food Drive. This year it's being done Virtually-monetary donations can be made online. Barry Villamil and I have worked together for a few years to get the information out to the Pearl City community. So when you see your letter carrier, don't forget to tell them you love and appreciate them. Also, support the community by making a heartfelt donation filled with Aloha!"
Maureen Oshiro – Pearl City resident
"I am sure there are a lot of mail carriers that do a great job but I would like to recognize two special Pearl carriers Ryn Lenchanko and Adele Yoshikawa who do more than their job calls for and even during the most busy time…they always have a kind and pleasant disposition which is so uplifting during the COVID period. It's people like them that keep us going and remind us of what to appreciate in life!"
MAHALO!
Adele Yoshikawa and Ryn Lenchanko
Photo courtesy of Adele Yoshikawa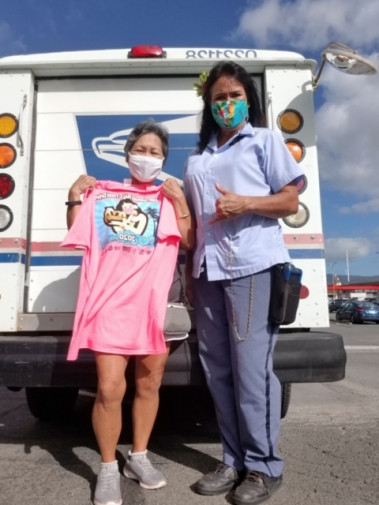 Photo courtesy of Adele Yoshikawa
A Pearl City resident is proudly pictured with Adele Yoshikawa while holding her
28th NALC Food Drive t-shirt after supporting the food drive with a $100.00 donation.